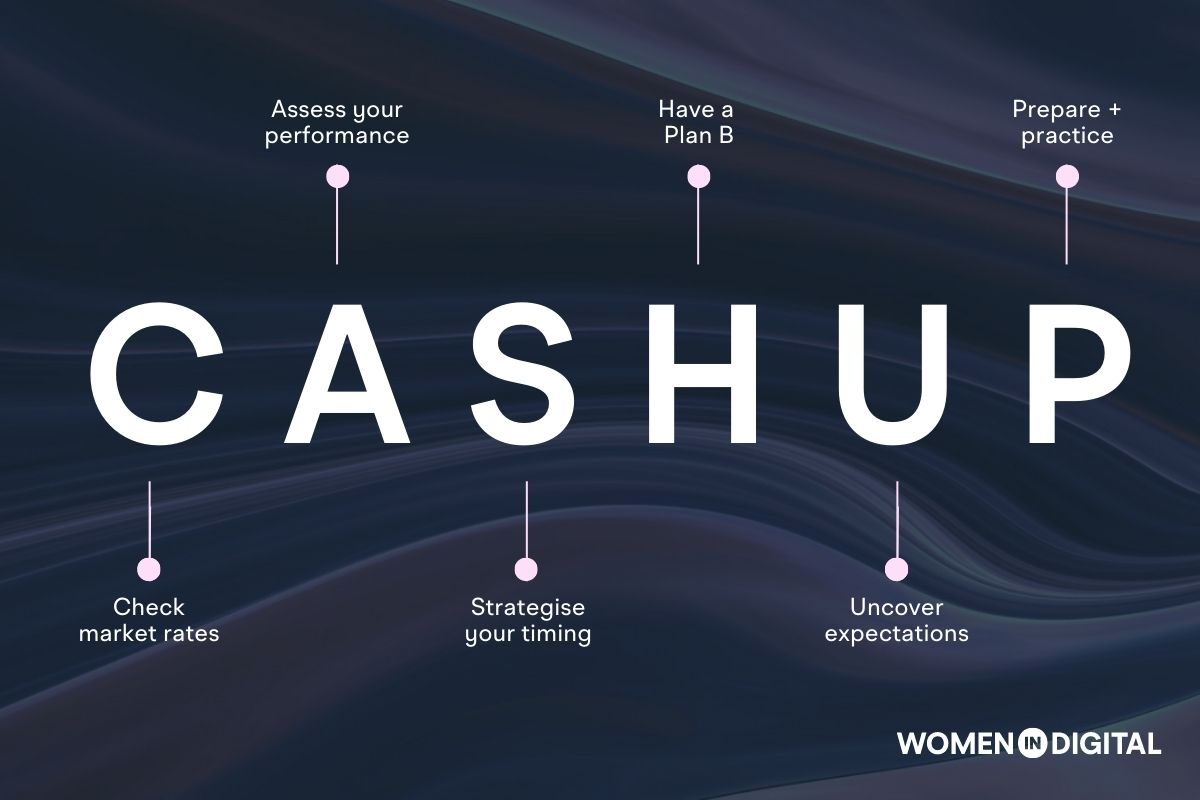 ---
With the EOFY quickly approaching, we have one question to ask you… Are you ready to crack the code to a higher paycheck? Say hello to the CASHUP Framework – your secret weapon for nailing that pay rise. We know that asking for a raise can be daunting, but with this simple acronym as your guide, you'll be equipped with a structured approach to confidently navigate the salary negotiation process. 
There are a lot of acronyms in our industry. This is one you'll want to keep in your back pocket. Here are the six letters you need to remember:
C is for… Checking market rates!
The key to success in salary negotiations is knowing your worth and being able to back yourself. The best starting point to do so is to do your research and arm yourself with the numbers you need to know. We recommend downloading Hunt & Co.'s 2023 Digital Salary Guide to use as a benchmark for your salary (plus it has some pretty neat industry insights).
A is for… Assessing your performance
Time to ask yourself some big questions that your employer inevitably will. These are questions like: Are you meeting objectives set by the business? Have you exceeded expectations? Do you know the ROI of your contributions to the business?
This is an opportunity to evaluate your skills, achievements, growth and overall contributions to the company to help build your case. One way to assist with answering these questions would be documenting these factors over the course of your employment, including quantifiable evidence of success and data where possible.
S is for… Strategic timing
Yes, timing matters. Before booking a meeting to pitch your case, consider the company's financial situation or external factors that could impact the outcome of your salary negotiations. At the end of the day, a good manager or employer wants to help you achieve your growth goals. At the same time, they also have budgets, market factors and possibly other stakeholders to contend with that will all have an impact in some way. It is worth considering if your organisation has the means and ability to act on your request.
Given the green light on these factors, we recommend booking a meeting with your employer at least two weeks prior so they can also have a chance to gather any notes and talk to any other stakeholders required as part of the approval process. Choose a quieter time of the week such as a Thursday or Friday afternoon, in person if possible.
H is for… Having a plan B
This is a huge opportunity a lot of people miss! If money isn't on the table, consider other opportunities of non-monetary value that could be beneficial to your role or career growth. For example, a title change, access to skills training, mentorship opportunities or the ability to work on a new project. It is also worth considering, are you open to exploring external opportunities? Perhaps there is another opportunity within the company you would be interested in exploring?
U is for… Uncovering expectations
Whether your pay rise is successful or not successfully, this is an opportunity to clarify the expectations and criteria for a pay rise within your company. This includes understanding performance metrics, tenure requirements and other factors that may influence pay decisions. See how you can align your request for a pay rise with these expectations to strengthen your case! This may also shed some light on what is required from your role to grow and achieve higher salary tiers.
P is for… Preparation and practice
Last and perhaps most importantly, preparation and practice are key. Gather your evidence (including market research, evidence of success, performance indicators etc.), find a trusted friend or mentor and rehearse. Will it be uncomfortable? Most likely. Will you feel more prepared and confident on the day? Absolutely.
Practising your pitch beforehand can help you articulate your thoughts and refine your approach. This is your secret to success!
Now that you have the CASHUP Framework locked to memory, it's time to go out and conquer your salary negotiations and ask for a pay rise. Go on! There's no time like the present. Get planning!
---
Ready to unlock exclusive insights, tips and opportunities to level up your career? Join the Women in Digital Membership and be part of our thriving community of career-driven individuals! Click here to learn more.
---