Women in Digital Corporate Spotlight: Amazon Web Services (AWS) with Anne Marron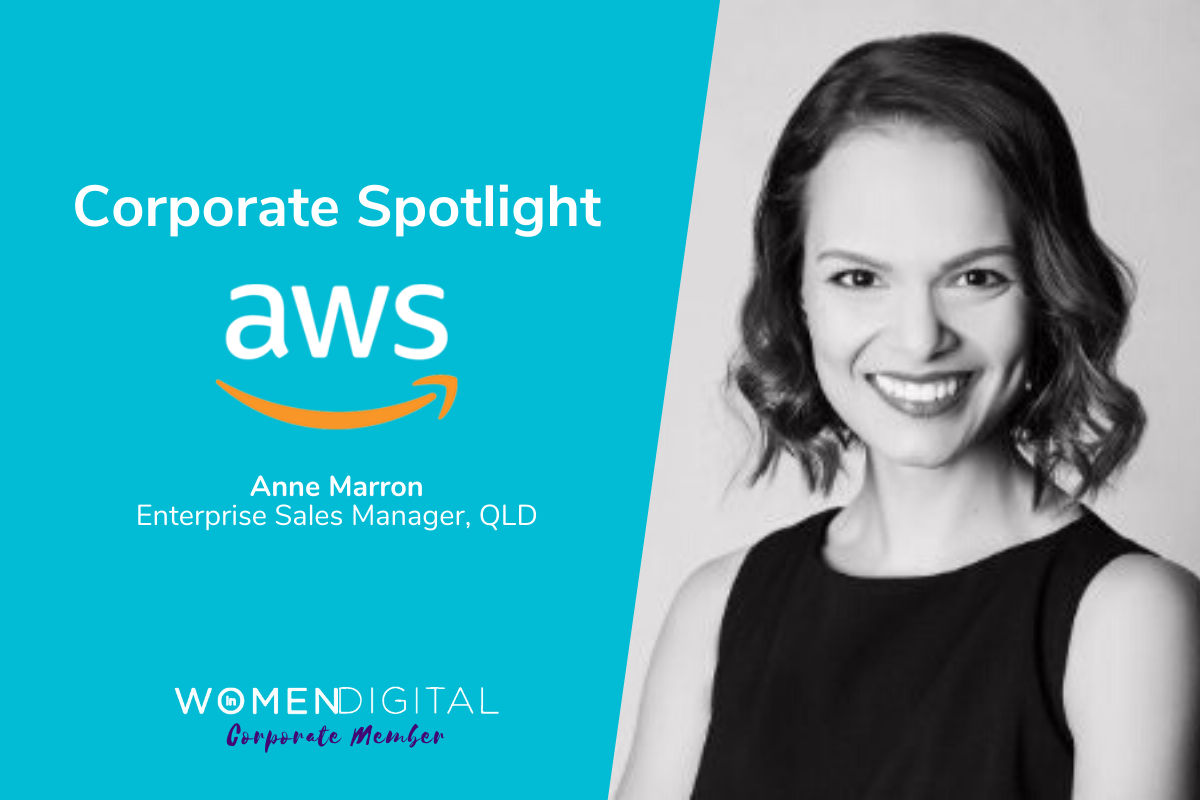 At Women in Digital, we are very lucky to have incredible partners like Amazon Web Services (AWS). AWS came onboard as one of our first Corporate Members and we could not be happier to have them on board. It is no secret that AWS is a major player in the digital space but what many people don't know is the work they are doing to increase diversity in their workforce. We sat down with their Enterprise Sales Manager (QLD), Anne Marron to discuss all things AWS, diversity and the importance of diversity in digital.  
How would you describe AWS in just one sentence?
As we strive to be the earth's most customer-centric company, our people have the ability to make a genuine impact in their roles, for customers and in the community. Really.
How long have you been at AWS?
3 incredibly fast-paced years.
What is one thing not many people know about AWS?
Both globally and closer to home here in Australia, we have women in tech leading some of our biggest and most important businesses at AWS. AWS is the most diverse workplace I have personally ever worked in!
How did you enter a career in tech sales/account management?
I've built my career on deliberate, planned choices. Very early on, I started working closely with a tech recruiter because I knew my first major tech role was going to be the start of a long and meaningful career. I was placed in a role at Cisco and have never looked back.
Along the way, I have taken core learnings and continued to expand my skills with each new role I have been awarded.
My philosophy is that you don't need permission to be incredible, you simply need to make the choice to back yourself.
I also think it's important not to just think about your next role, but the one after that and work backwards on the skills/requirements you'll need to be successful in that role. Think big!
What made you want to become a Women in Digital Corporate Member?
Diversity of thought is critical to the way we solve problems in the real world for our customers.
It is so important to continue to build talent pools to help us meet the needs of our customers all around the world.
Obviously diversity in digital is important to you but what is your definition of diversity and how or why do you think diversity is important?
Amazon has hundreds of millions of customers who benefit from diversity of thought. We believe that diversity and inclusion are good for our business, but our commitment is based on something more fundamental than that – it's simply right.
We are a company of builders who bring varying backgrounds, ideas, and points of view to decisions and inventing on behalf of our customers. Our diverse perspectives come from many sources including gender, age, race, national origin, sexual orientation, disability, culture, education, as well as professional and life experience.
In what ways do you think diversity is important to someone in a leadership role?
In my experience, diversity brings perspective and empathy. Both are important qualities in leadership.
How would you describe your current thinking about diversity, and how has your thinking changed over time?
My perspective on diversity hasn't changed much over time. Diversity in the workplace is not only necessary, it's simply right. And diversity is everyone's responsibility.
What does it mean to AWS to have a commitment to diversity?
Amazon's mission is to be the earth's most customer-centric company, and this mission is central to our work in inclusion and diversity. Our customers are diverse, and we know we serve them better by having and building diverse teams. Our diverse perspectives help us push each other to think bigger, and differently, about the products and services that we build for our customers and the day-to-day nature of our workplace.
How is AWS demonstrating that commitment?
Amazon is committed to a diverse and inclusive workplace. Amazon is an equal-opportunity employer and does not discriminate on the basis of race, national origin, gender, gender identity, sexual orientation, disability or age.
AWS is committed to recruiting talent from all backgrounds. This includes but is not limited to alternative pipelines for those in leadership positions, early career and non-traditional career paths, and those who have taken extended career breaks.
Here are some examples of the global programs we have to support diversity and inclusion in our workplace:
AWS re/Start – preparing unemployed and underemployed individuals for cloud careers through classroom-based training.
We Power Tech – a community of allies and leaders who are powering the future
What is AWS doing to help increase the number of women in the workplace?
We feel strongly that people of all backgrounds are represented at Amazon. We also believe in the importance of investing in and retaining the women already within our organization. Once at Amazon, we have benefits like parental leave, mentorship, flexible work arrangements, returners program, and sponsorship programs in some countries, which help women not only stay at Amazon but also develop their careers. Our various women-focused affinity groups have global chapters to help strengthen the community among our internal talent. Our women workforce are actively involved in external speaking engagements, as well as presenting at local and global AWS events, to talk about their own experiences.
To businesses or leaders out there that know they want to improve gender diversity within their team but don't know where to start…. What advice do you have for them?
A really simple first step can be checking for gender bias in job descriptions. There's lots of tooling available to help with this prior to advertising the position.
Also, make sure you have a diverse representation of staff interviewing your candidates.
Finally, being deliberate in activities like talent acquisition and retention or development programs is super important to achieving outcomes.
Thank you so much to Amazon Web Services (AWS) for being such fierce advocates for diversity – with Amazon.com Inc. employing over 750,000 people worldwide, they have the power to create far-reaching, impactful change. 
If you are interested in learning more about AWS and their culture, click here. You can learn more about our partnerships here.