'Human API' Julie Trell shares her recipe for leadership success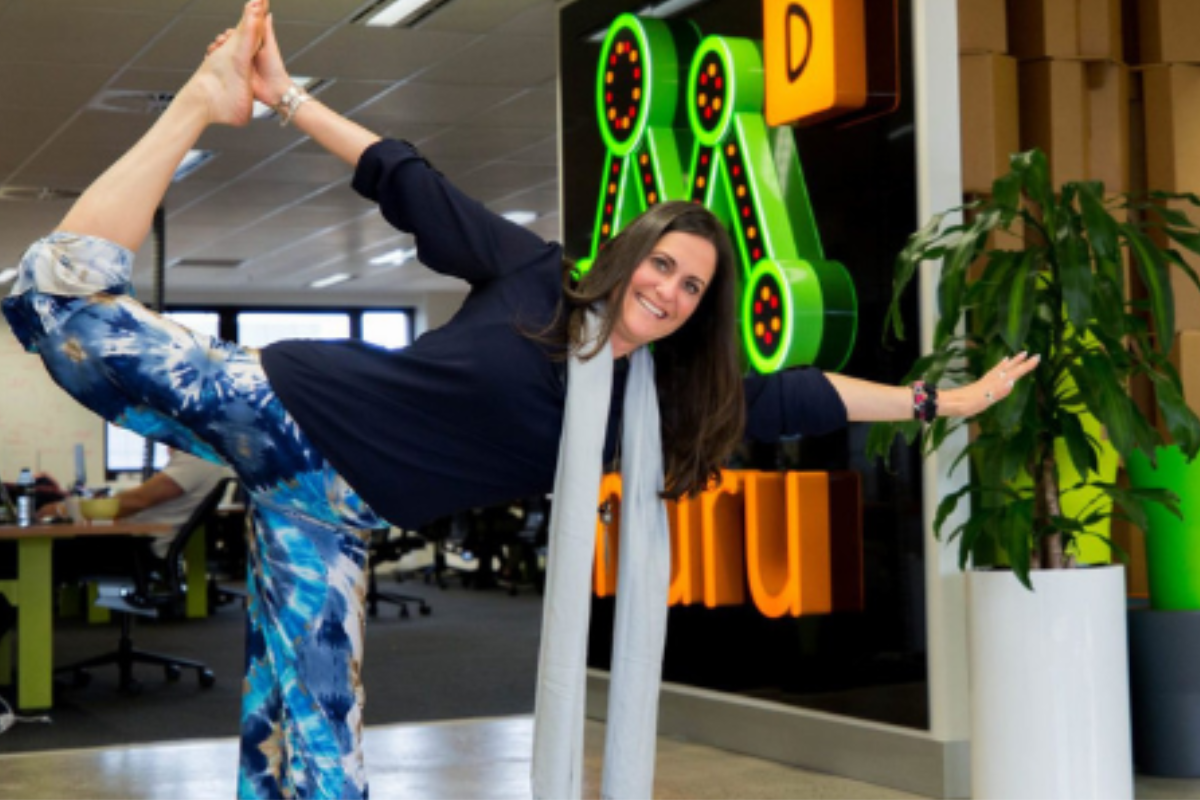 Describing herself as a Human API—connector of people, programs, and ecosystems—Julie Trell is the Global Head of muru-D, SheEO Australia Lead, and self-confessed technology junky. Having worked for some of the biggest technology companies across the globe, including the multi-award winning social enterprise Salesforce.org, Trell is a true leader in the digital realm, known for her solid sense of how, and when, to connect new founders to global resources.
Passionate about both education and innovation, Julie Trell was recently recognised as UQ Business School Leader of the Year at our annual Women in Digital 2018 Awards Gala. Here, we speak to Trell about the dynamic (and often addictive) nature of the digital realm, and learn more about her famously playful approach to leadership and change.
Women in Digital: What do you consider to be the positives, and potential negatives, of living in the digital era?
Julie Trell: Well, it helps with ease of life and making things easier, and more efficient. But then on the other side of things, there's a risk of an addiction to it, and that's not healthy. So it's a great tool to solve problems, a tool to connect, a tool to make the world feel smaller, and the flip side is, is it compromising our humanity? And our ability to be empathetic?
WID: What are some digital tools that affect your day-to-day, and how do they maximise your productivity?
JT: We use DocuSign at muru-D daily. I recognise how  simple DocuSign is—signing documents without having to fax or mail. These are the things that simplify the work process. In addition being able to find answers to questions without having to ask someone or go to a library makes for a faster learning opportunity. I think technology allows us to become better, or more critical, thinkers, or least I hope so. It just makes work life easier, allowing you to get things done faster.
WID: Can you tell us more about your role as Global Head of muru-D?
JT: I was brought in by Annie Parker, my predecessor, mentor and now good friend. Muru-D was started to ignite the startup ecosystem in Australia five years ago, and we've done that. We were one of the first, there were only two or three accelerators when we started, and there are so many now, which is really exciting. Many people are getting into the startup world to become an entrepreneur, because the traditional path of going to college, graduating,getting a full time job and then staying at a corporate for twenty years has changed.
My role is to create a space where we can bridge the corporate world and the startup world, to create opportunities, to create innovation, and to create a thriving Australian economy that's fuelled by innovation, technology, and entrepreneurs.
We've been around for five years, and so now it's exciting to see what's next. There is a lot of opportunity for change, so in terms of the future of what it looks like next, we have an exciting opportunity to redesign that.
WID: Throughout your career you've worked with some of the biggest technology companies in the world. What are some of the biggest changes you've witnessed in the way we use technology in the workplace?
JT: I was very lucky to "grow up" at Salesforce, starting there when there was only 100 people. When I first met Marc Benioff, CEO of Salesforce, the terms SaaS or Cloud Technology weren't even invented yet. So being on the cutting edge of that development, and working with an incredibly innovative leader and company that set the bar so so high, and working with people who not only reached the bar,  but exceeded it was an amazing and incredibly valuable experience. Coming to Australia was exciting for me, because it was an opportunity to help move the bar here, and to get companies and startups and founders to achieve what is actually possible, challenging people to do that, and helping them to use the right tools, resources, smart capital and networks to do so.
WID: At our recent Women in Digital 2018 Awards Gala you were recognised as UQ Business School Leader of the Year, and were commended for your playful approach to leadership and change. Can you tell us more about your personal leadership philosophy?
JT: I think leadership is about creating a safe space to nurture a growth mindset. Also, a place to allow for failure, and embrace play, curiosity and experimentation. I tend to lead with a democratic leadership philosophy. I believe everyone should have equal say in the team, or, they should at least be heard. I value participation and collaboration within and without the team. The reason I first went into teaching was to be the catalyst for the lightbulb to go on, and I thrive to see that happen in my team, with the founders and their companies, as well as within the corporate environment of Telstra. My success is experiencing the success of others through their interaction with me, my team, and the programs we lead.
WID: You are known for your passion for education and innovation. What advice would you give women working in the industry regarding keeping up to speed with digital best practice?
JT: Speak up, speak out, and find a network. If you sometimes feel like you have dumb questions, they're not dumb questions, because someone else has got the same questions as you have. And not being afraid to ask for help is huge. Humans in general are a lot more keen to give and to help others than we think, but that doesn't work if no one is asking for that help. So, as women…I just think not being afraid to ask is so important.
WID: You are the current Australia Country Lead for SheEO. Can you tell us more about how this global initiative helps to transform how we finance, support and celebrate female entrepreneurs?
JT: At SheEO our goal is to get 500 women across Australia to contribute $1100 into a fund for female entrepreneurs. The women who contribute that money are called Activators, so you're activating your buying power, your capital, and your network. It's not just writing a cheque and walking away, you're actually engaged with the process. As an Activator you get to select which five ventures will receive this 0% interest 5-year loan. It's a perpetual loan that, once paid back, can be loaned out again and again. And it's creating this perpetual flow of capital to women, from women, who really believe in the products that are being created; that believe in the founders themselves. Most of the companies that are chosen offer some sort of product or service that will make the world a better place, and that's a big focus. What it really creates is this ask/give network, so that activators who participate in this fund can ask one another for help as well.
There are [also] a lot of other wonderful initiatives helping and supporting women entrepreneurs, and we're here to work with them. I've already had conversations with Scale Investors, with Head Over Heels, with SheStarts. You know, this is not about us doing another competitive thing, this is about all of us playing together.
WID: What do you love most about what you do?
JT: So, the first response that came into my head—and it's the reason why I did go into teaching—was that aha! moment. Sharing a moment with someone where they learned, or where they failed, and learned from that failure, so that they knew how to do it differently, or knew how to do it awesomely next time. The other thing that I love doing is connecting the right people with one another. I don't know everything about everything, but what I do know is how to find the right people for the job at hand, and to help them connect and help one another.
WID: What piece of advice would you give to a woman who aspires to work in the digital realm?
JT: There are so many resources out there. But if there is something that you believe in, do it. I remember when I first started working as a technology specialist at a middle school, I had no formal technical training, and yet I was fixing and maintaining the computer networks of the school. I was literally doing things like pulling out the motherboard of the computer, smacking it with my palm, and putting it back in, and sometimes that would work. But I would also go to sleep thinking about some of the problems I had encountered with computers, and I could literally feel the synapses forming in my head trying to solve for the issue, and I was learning. The reason I am telling that story is, getting into digital, or getting into technology, if you're eager to learn about it, as soon you start to learn you can feel that growth almost immediately.
WID: So it's really one of those industries where you learn so much by doing, and by being involved?
JT: Yes, exactly. And  yet, there's that whole imposter syndrome, I get it, I have it everyday. I have that voice in my head, too, and I've named her, her name is Beatrice. She's getting a lot of play lately because I've been talking about her a lot, so hopefully that's enough to get her to sit down and to just let her do her own thing and stop bothering me. And then you move on, and you ask questions again. It's about being confident and doing what you believe you can do.
WID: You describe yourself as an avid technology junkie. So we have to ask; what's one app you can't live without?
JT: Any kind of a text (based) app, that kind of a communication tool. Whether it's WhatsApp or text. So I can communicate to people that I wouldn't be able to otherwise, so I have one network on Telegram, and I'm on WhatsApp, and on text.
Check out more of our Q&A's over on our blog!