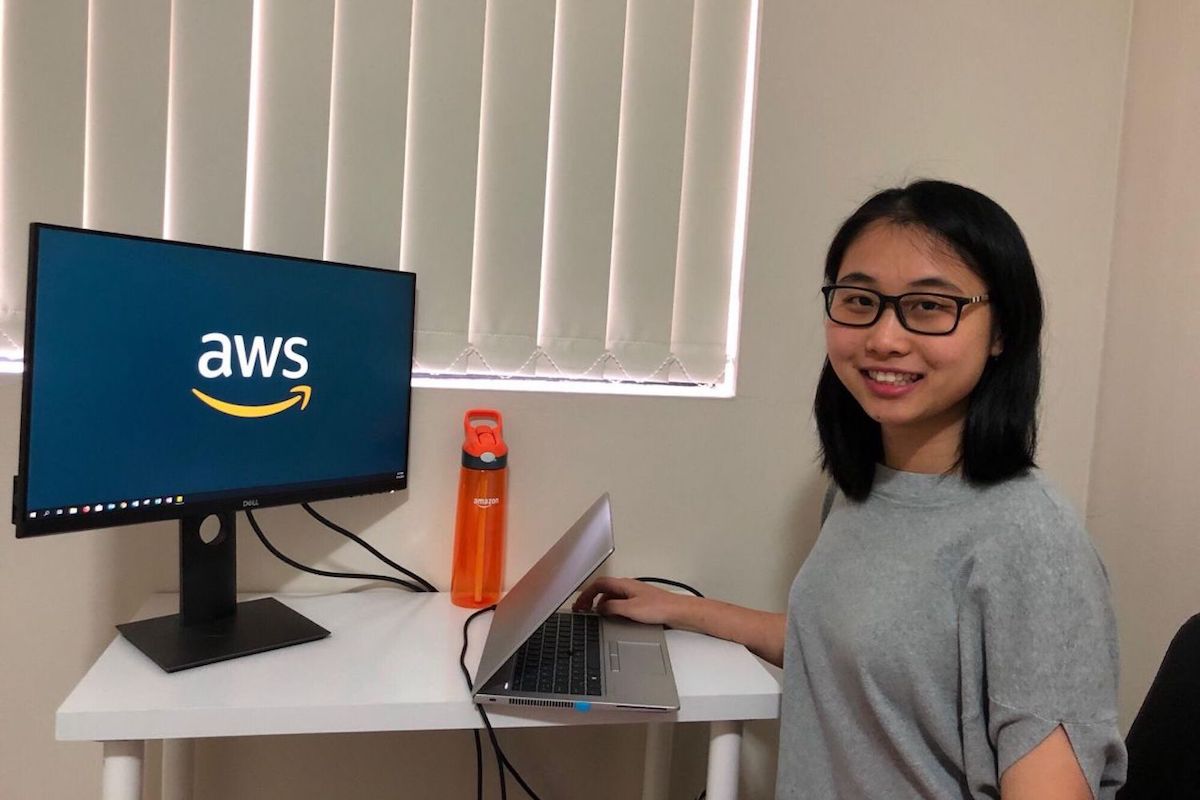 ---
Introducing the 2020 Women in Digital Awards Rising Star of the Year, sponsored by Amazon Web Services, Lucy Wang!
Lucy Wang is a third-year Information Systems student at the University of New South Wales with an impressive list of accomplishments and industry experience already under her belt. She has interned at PwC and Deloitte, taught at Code Camp, won 5 case competitions at University and is an executive member of multiple University clubs and societies. But perhaps her most significant contribution is co-founding the UNSW Digital Society. This society aims to empower students interested in digital innovation, strategy and user experience by providing on-going training and networking opportunities! We know this rising star has a bright future ahead of her. 
We were thrilled to chat to Lucy about University, career goals and advice for other early-in career students.
Watch the live announcement of the Women in Digital Awards Rising Star of the Year here.
Congratulations Lucy! You have achieved so much in your 3 years at university so far. Where do you think this drive comes from?
Thank you! 3 years have flown by so fast and I'm very grateful for all the people I've met along the way. I think my drive to make the most out of University initially stemmed from some regrets from High School – I had always stuck with what I was familiar with, and never really took the initiative to leave my comfort zone. I wasn't involved in extracurricular activities and never put my hand up for any leadership positions. This left a feeling of emptiness, and a little "…what if?" voice in my head. When the first day of University came along, I promised myself to say yes to every opportunity and to take risks – so that I wouldn't be faced with the same regrets looking back.
This fear of regret gradually shifted into a desire to make a tangible impact in communities. In the haze of Uni assignments and part-time jobs, I found myself competing in national competitions, organising large-scale student events, and creating a new student club.
We have obviously done a little introduction already but tell us, in your own words, who is Lucy?
I'm a third year student currently studying a Bachelor of Information Systems at UNSW. Throughout university, I have always been fascinated by the power of technology in enabling innovation and empowering people. Alongside my degree, I have the pleasure of leading a student community called "UNSW Digital Society" where I work with an amazing team of 35 to create events for over 400 students on campus.
What is something that not many people know about you?
I love the concept of minimalism and that less is more. I'm always trying to remove excess items from my living space and decluttering my mind to focus more on things that matter.
What's your most recommended resource? Whether that be motivation, organisation, careers or professional development.
I recommend personal development books / videos! They really helped me view life through different lenses and perspectives, and are a great way to develop a strong growth mindset.
You are about to graduate from a degree in Information Systems – what made you choose this area of study?
I chose to study Information Systems because, growing up, I've always been fascinated by the power of technology and how it constantly changes the world around us. I heard that the degree was the intersection between Business and Technology, which sounded appealing because I wanted to learn about how technology is used to achieve business outcomes.
What has been your biggest lesson from uni to date?
Sometimes failure teaches you more than success – so don't be afraid of constantly experimenting and looking for opportunities to improve.
Back to when you started the UNSW Digital Society, how did this opportunity/idea come about?
The idea of UNSW Digital Society came about when my friends and I realised that there was no society on campus focused specifically on the rapidly-growing Digital space. In my first year of university, I was involved in 5 different Business and Tech-related societies, and really wanted to use the skills I've developed to build a new society dedicated to empowering students interested in this space.
What advice do you have for students on securing their first internship?
Don't (just) apply. Come up with creative ways to demonstrate the value you can bring to the company. This may involve:
Proactively reaching out to people in industries you're interested in, to learn more about what they do.
Showcasing your projects, experiences and skillsets through an online portfolio / personal website.
Building a personal brand through Linkedin by writing and engaging with posts.
We are so keen to know, what is next for you?
As I complete my final University courses, I'm excited to be starting a full-time role next year in AWS as a Solutions Architect!
What is your ultimate career goal?
My career goals change all the time as I continue to navigate through different experiences – but my ultimate goal is to improve the lives of others. I want to look back at my career journey and be able to see that I made a positive, tangible impact.
What do you believe is the importance of industry awards such as the Women in Digital Awards?
Industry awards are a great way to recognise people and organisations making an impact. In particular, Women in Digital Awards do an incredible job of celebrating the achievements of women in the digital space, promoting diversity in the workplace.
Congratulations Lucy on all you have achieved so far. We can't wait to see what you do next!
Want to get involved with the Women in Digital Awards? Be sure to subscribe here so you never miss an update! 
To read more Q&A blogs from our line-up of Women in Digital Award Winners, head over to our blog and keep an eye out for more success stories on our Facebook and Instagram. You can also see our list of other winners here.
---