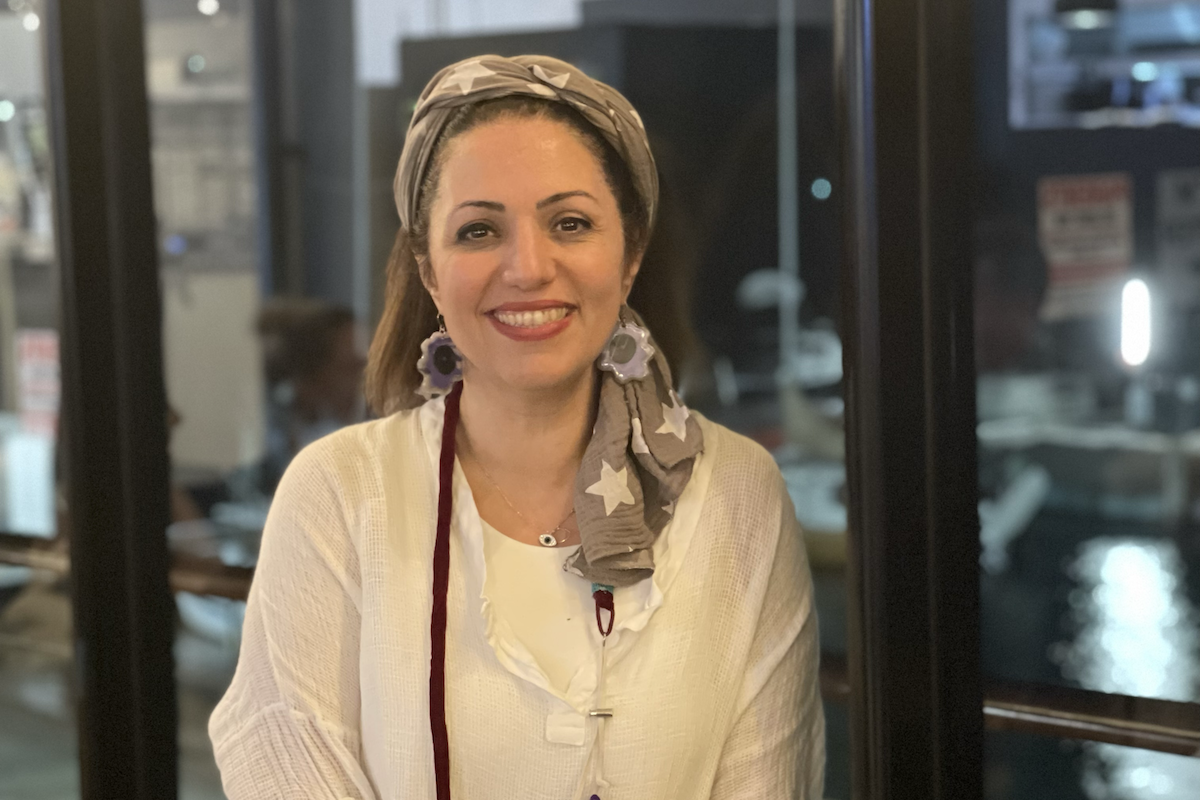 ---
Here at Women in Digital, we believe that gender diversity is just the beginning of a much broader conversation about workplace diversity. Diversity isn't a one-dimensional concept; it takes many forms and when you examine high-performing companies it becomes increasingly apparent that diversity—of thought, culture, and experience—is not only desirable but essential. Someone we were very excited to talk to on this topic is Nazli Seghar.
Hailing from Iran and now a prominent business leader and transformation advisor, Nazli Seghar exemplifies the power of passion and perseverance. From her childhood dreams of becoming a movie director to her unexpected entry into computer science, Nazli's story is a testament to the power of pursuing one's true interests and passions, even when the path seems uncertain.
Today, Nazli is a Customer Success Executive at Cisco with over 20 years of experience under her belt in successfully leading teams in various government and large private organisations including the University of Newcastle, CSIRO, AWS (working in space innovation!) and Cisco where she has carried through her unrelenting drive to explore the possibilities of emerging technologies.
In this Q&A, we discuss Nazli's journey into tech, her experiences working as a woman in tech in Iran and building a professional career in Australia, and the unique challenges that have influenced her leadership style and approach to managing diverse teams. We also heard Nazli's advice on getting your foot in the door with large tech innovators, facing cultural barriers at work and more.
This promises to be an inspiring read!
To kick things off, what did 5-year-old Nazli want to be when she grew up?
Back when I was 5 years old, I had my sights set on becoming a movie director and producer. I would go on scouring for stories, rounding up all the neighbourhood kids feeling like a mini-Hollywood casting director, and putting on performances that would leave their parents in awe (or at least, they pretended convincingly!). Lights, camera, action—In my own eyes, I was the little maestro of backyard blockbusters!
How did you end up in your current role at Cisco?
Six months ago, I embarked on an exciting journey with Cisco, taking on the role of Customer Success Executive as part of the ANZ Customer Success team. This position, relatively new to the tech industry, is centred around aiding customers to maximise the value from their investments. Rather than a traditional sales-centric role, it's about fostering a positive customer experience as they navigate their transformational journey.
Throughout my career, I've always been passionate about ensuring customer success, and this role allows me to focus on just that. My particular enthusiasm lies in the industry I am currently engaged with, which adds further motivation and excitement to my work. At Cisco, I continue to champion customer satisfaction and success, making their journey both seamless and rewarding.
It is commonly recognised that there are fewer female leaders in digital and technology. Could you tell us a little bit about your career background and how you ended up working in the industry in general?
When I was faced with the decision of choosing my future career in Iran, the university entrance exams were very competitive, leaving little room for choice. I initially dreamed of becoming an architect, but circumstances led me to be accepted into the field of computer science. Surprisingly, it was harder to get into computer science, and I didn't think I stood a chance of getting accepted and to be honest, I had only added it to my list to please my mum, who had already been disappointed that I didn't aspire to become a doctor. With a computer science degree, I embarked on my journey in technology, and it felt like a natural fit for me. Even when an unexpected opportunity arose for me to study architecture and even work at an architectural firm a few years later, I realised just how fortunate I was to have veered away from pursuing architecture, and that I eventually found myself doing what I am doing now. My current path aligns perfectly with my curiosity for emerging technologies and my personal passion. It is a testament to the fact that when you follow your true interests and passions, you naturally gravitate towards a fulfilling and rewarding career, regardless of the specific academic path you initially embark upon.
You were able to grow an impressive resume working in Iran before moving to Australia. What was that experience like? How did go about building up your network, and professional career in Australia?
Back when I was completing my bachelor's degree, a miraculous opportunity presented itself—I stumbled upon Bulletin Board Systems (BBS), of all things, for my thesis. Little did I know that this seemingly niche topic would open doors for me in the vast realm of the online world including leading the software team of the first web platform in Iran. Fresh out of university, I ventured into Iran's male-dominated tech industry, working on the country's first online platform without the convenience of Google. Instead, we relied on books and hands-on learning to deliver. Although the challenges were immense, the result was exceptionally rewarding. When I relocated to Australia, by a stroke of incredible fortune and reward for working hard and getting good marks in my master's degree, found a job at university which was a stepping stone for me for my future career. I found myself working at CSIRO—an experience that has played a pivotal role in shaping my career and leadership in advanced technology. With each new wave of emerging technologies, I've been irresistibly drawn in. I was curious about the potential of cloud computing within AWS and that's how I ended up working at AWS which led me to leading the aerospace and satellite business in ANZ for AWS and working with amazing space innovators in the region. I love pushing my limits, constantly seeking new challenges, and right now I consider myself unbelievably fortunate to be surrounded by the greatest and brightest minds in Cisco. Collaborating with these remarkable individuals who have shaped technology infrastructure across the globe is a privilege beyond measure.
Reflecting on that, is there anything you would do differently? And what would your advice be to someone starting fresh in a new country?
Growing up in war in Iran has taught me not to dwell on the past with regret. If I have emerged from those circumstances alive, I consider it a success. While I do acknowledge and learn from my mistakes, I view them primarily as opportunities for personal growth. Thus, would I change anything? Probably not, as it would hinder the valuable lessons I have learned. They are like treasures. However, I constantly strive to do better and improve upon my past experiences.
To anyone embarking on a new journey in a foreign country, my advice is to recognise that most of the limitations we assume to exist are often confined within our own minds. It is essential not to let those self-imposed limitations restrict our potential. I often advise my mentees that migrating to a new country is like finding yourself in a situation where you lack the keys to various aspects of life, from finding a home to applying for jobs and more. It can be overwhelming, but instead of succumbing to the pressure, approaching it with enthusiasm, excitement, and curiosity will often result in positive outcomes and solutions to most challenges.
How would you compare your experiences working in Iran vs. Australia? Were there any interesting challenges you had to overcome?
This is an intriguing question. One of the greatest aspects of Australia is that if you remain focused on your goals and genuinely passionate about your pursuits, your efforts will not go unnoticed, and you will make progress. While challenging situations exist everywhere, in Australia, these challenges often revolve around specific individuals you encounter in your career. In Iran, however, there are additional political challenges that make things significantly more complex, especially for women. Unfortunately, being a woman in the tech industry and striving to become a leader is still more challenging for women worldwide. In Iran, this situation is exacerbated by laws that favour men. However, in Australia and Western countries in general, there is growing awareness and encouragement for gender equality in the tech space. While there is still progress to be made, the recognition and support for doing what is right is increasingly prevalent.
It is often said that as a woman in the tech industry, you must work twice as hard to gain recognition. When you add an accent to the equation, the expectation is that you must work three times as hard! Building trust becomes crucial, and being extremely results-driven becomes a necessity. In Iran, that wasn't any barrier, but there were thousands others!
How have your cultural background and experiences influenced your leadership style and approach to managing diverse teams?
You may be aware that Iran is a collective society where strong loyalty to family is highly valued. In this cultural context, the interests of the family always come first, and individual needs take a backseat. The concept of family honour and shame is shared by all members, where success brings prestige, and any dishonour affects everyone. This deeply ingrained aspect has profoundly shaped my leadership style, emphasising the importance of unity, responsibility, and the collective well-being of those I lead.
As a leader, my team and customers are like family to me. I take responsibility for my team members' mistakes while celebrating their individual achievements. I deeply care about my customers' success and treat them with the same genuine interest as I would my family members. I prioritise their best interests, even if it comes at a cost to my own situation. This genuine care has fostered strong bonds with my team, leading to lasting connections that transcend time and cultural backgrounds.
Coming from a diverse cultural background, I empathise with the challenges faced by individuals from minority backgrounds. Embracing diversity, I actively seek varied viewpoints rather than surrounding myself with like-minded individuals. I value the unique perspectives that diversity brings to the team and strive to create an inclusive environment. Learning from exposure to other cultures and their leadership styles has been instrumental in my personal and professional growth.
You have worked with some heavy hitters in Australia including CSIRO, AWS and now Cisco. How did you get your foot in the door? What is your advice to others looking to get their foot in the door with large tech innovators like these organisations?
It is often said that success in one's career is a blend of passion, hard work, and a sprinkle of luck. There are moments in life where the choices we make can have a profound impact, and that's where luck comes into play. I have encountered several pivotal moments in my journey. Meeting two incredible women during my masters at the University of Newcastle paved the way for my first job, leading to more opportunities. The first job is always challenging, but once you secure it and perform exceptionally well, the doors begin to open. As a woman, I encourage others to seize chances and never assume they won't be chosen. What I always emphasise to my mentees is to go for it— the worst that can happen is not getting it. Throughout my years of experience, I have hired numerous individuals. I believe that technical skills can be learned, but finding the right cultural fit is crucial. Interviews are also a chance for candidates to assess if the company aligns with their values. Ultimately, my advice is to pursue something you love and a company that brings out your passion. Go for it!
In your opinion, what can organisations and leaders do to create a more inclusive and diverse environment, particularly in relation to gender and cultural diversity?
To promote diversity and inclusivity, we must actively and consciously embrace differences with an open mind. It's important to challenge ourselves to be comfortable with discomfort and resist the natural inclination towards familiarity, whether in gender or culture. Stepping out of our comfort zones and creating a safe environment where everyone can freely express themselves is crucial. By doing so, we can foster a culture of inclusivity, embrace diverse perspectives, and work towards a more inclusive future.
What advice do you have for women that are wanting to progress in their career but perhaps face some cultural barriers?
To pursue your ambitions, you must be resolute and courageous, with a clear destination and well-defined goals. Seek a reliable mentor, take ownership of your future, and actively engage in networking. Showcase your capabilities and ask for assistance when needed. If cultural barriers arise, seek advice from those who have overcome similar challenges. With determination and perseverance, success will be within reach. Remember, it is up to you to demonstrate your worth and make your dreams a reality.
Any final thoughts you would like to add?
First and foremost, I want to express my gratitude to the Women in Digital for providing this opportunity and for the incredible work you do.
To all the amazing women out there, I offer this advice: never underestimate your capabilities and always aim high. You'll be amazed at what you can achieve. Believe in yourself and embrace the power of your potential. Keep pushing boundaries and reaching for the stars!
And just for fun… What is a podcast or book you are loving right now?
One of the books I cherish, recommended by a mentor, is "Untamed". Additionally, I found great enjoyment in reading "The Dopamine Nation". As a dedicated podcast listener, "Space Connect" is among my favourites, and "Everyday AI" by CSIRO also captivates my interest. These resources have enriched my knowledge and sparked my curiosity in various subjects.
Is there something you wish was illegal but isn't?
I believe that while society is aware of the prohibition of certain forms of discrimination, additional measures should be implemented to combat them in various ways. I strongly advocate making such discrimination illegal, akin to crossing a red light. By enacting stringent laws and enforcing them rigorously, we can foster a more inclusive and equitable society that upholds the values of fairness and respect for all individuals.
What is your favourite way to waste time?
I have a deep passion for cooking, especially when it comes to discovering new recipes that I haven't tried before and preparing them in my kitchen! There's something incredibly satisfying about exploring different flavours, ingredients, and techniques to create delicious dishes. Cooking allows me to unleash my creativity and brings joy as I experiment with new flavours and textures. It's a delightful journey of culinary discovery that I thoroughly enjoy.
You're suddenly teleported to an airport with a plane ticket in hand. What location are you hoping to see on the ticket?
Egypt, I really want to visit Egypt.
Keep an eye on our blog for more Women in Digital Member Spotlights and don't forget to follow us on LinkedIn, Facebook and Instagram.
---
Want to join our thriving community of digital-loving, career-driven, diversity-championing humans and get access to exclusive members-only opportunities? Join the Women in Digital Membership today! Click here to learn more.
---