2022 Women in Digital Awards Winner Series: Q&A with Rebecca Mitrevski, Product Lead at Canva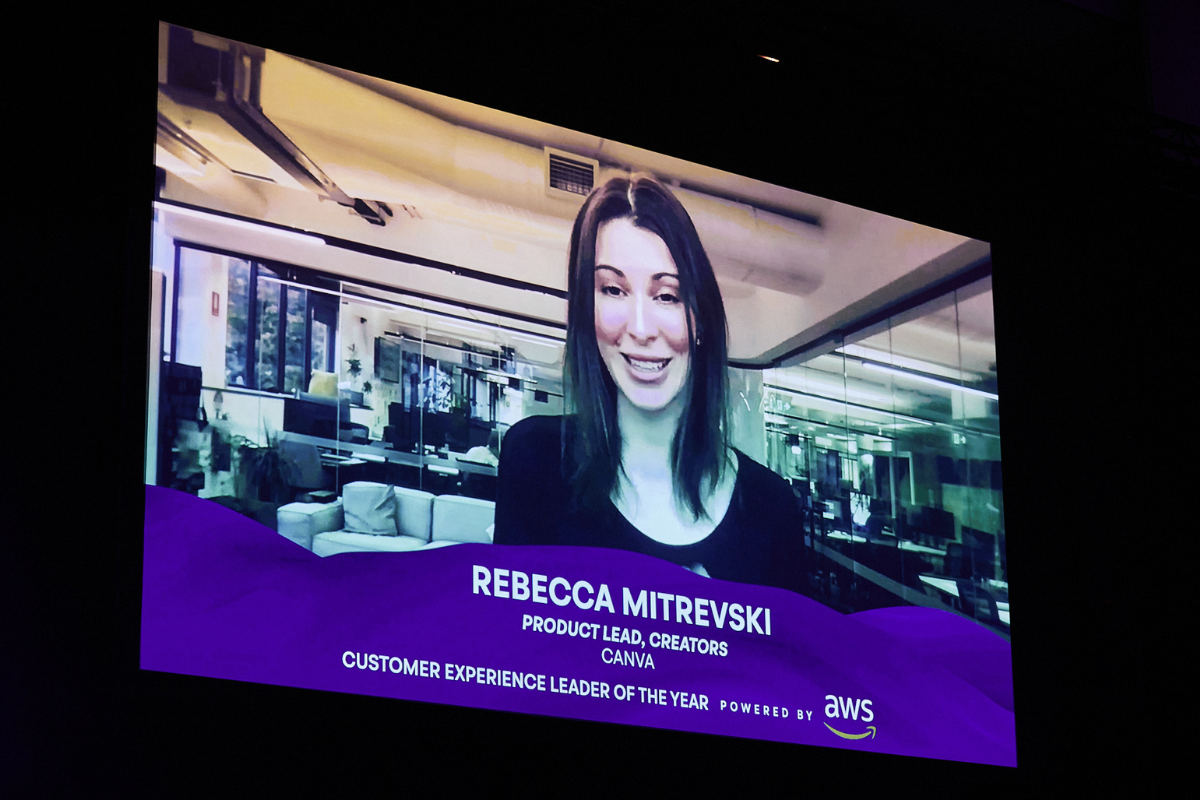 Introducing the 2022 Women in Digital Awards Customer Experience Leader of the Year, powered by Amazon Web Services (AWS), Rebecca Mitrevski!
Rebecca (Bec) is a Product Lead at Canva – an online design and publishing tool with a mission to empower everyone in the world to design anything and publish anywhere.
Rebecca was crowned the Customer Experience Leader of the Year for her work on Canva's Creator Marketplace, a space built for creators to give Canva users a truly localised experience when they come to Canva.
Executing such a global project of this scale was ambitious and bound to be challenging. Throughout this project led by Rebecca, she demonstrated a totally different level of thinking and creativity, brilliantly leveraging internal resources and talent across Canva to build an efficient, scalable solution to help creators create more local content faster.
The judges were really impressed by the project's return on investment as well as Rebecca's ambition, leadership, and mentorship of women in CX.
We were thrilled to talk to our 2022 Customer Experience Leader of the Year about her winning entry, career journey and thoughts on diversity in digital.
Click here to meet all the 2022 Women in Digital Award Winners.
Congratulations Bec! We are so impressed by your entry and obviously so were our judges, but tell us, who is Rebecca Mitrevski?
Well first up, I'm only called Rebecca if I'm in trouble. Otherwise, everyone calls me Bec. My team has also recently given me other nicknames including T-bex, and chew-becca. When in doubt, though, just call me Bec.
Now that that's out of the way, in a nutshell… I'm Bec, I am a Bikram yoga fanatic, I have a co-dependent relationship with my dog, Bella (pics below, you can see why I'm so attached), and I love building things. At work, that manifests in building products and teams, in my personal life it manifests in mentoring start-ups, and students.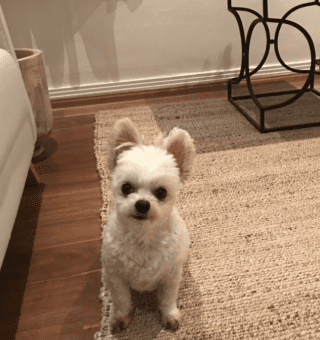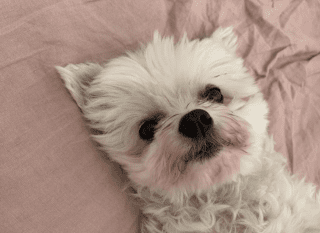 What is something that not many people know about you?
I haven't been to a hairdresser in 4 years. The last time I went, I was in shock after I got the bill and I haven't been back since. Not proud of it. Part of me admitting this to someone is me reminding myself to get over it.
Who is your professional inspiration?
Mel Perkins. She is so good.
'Product' is still largely an emerging discipline. You can't yet go to university to study a Bachelor in Product and often, people pivot into Product once they are in industry. Tell us, what did your journey to becoming Product Owner and now Product Lead look like?
Yessss this is so true.
First up, I didn't study tech. I don't come from a tech family. Both parents were from migrant families, my parents didn't go to university – my mum didn't finish high school, and my dad was a bus driver. I grew up in South Western Sydney (Campbelltown, 2560 represent).
Tech was not on my radar when I was growing up and if someone had suggested I go into tech, I would have been waaaaayyyyyy too intimidated. I am here because people opened doors that I didn't know existed.
When I decided to go to university, I was convinced I was going to be a child psychologist so that I could help children from underprivileged backgrounds. I went to an interview for a psychology scholarship, and afterwards, Nicola Ronan from the university called me and said "Hey, I'm going to put you forward for a double degree scholarship. Take on a commerce degree too. I think you'll like it."
And so I studied psychology and commerce and I loved it. In my final year, I did a forensic psychology subject and realised that I probably didn't have what it takes to be a child psychologist. That was a scary realisation after 5 years of study and when it was time to find a job. 
I then went into Human Resources but realised that also wasn't for me.
Thankfully, a mentor called George Robinson then took me under his wing and invited me to spend time with his team, which did due diligence on internal transactions >$10m. This is where I learned about the tech space. I remember George saying to me "Go where the money is – Digital or Mandatory, Compliance-led projects". Digital was way more "Me."
From there, I spent time in a Strategy and Operations role before I went into Product. And I found my fit. I've been in Product since.
About 5 years ago, I was with another very influential leader in my life, Stephen Bowen. We were building a team in India, from Australia. And it was hard. The tech wasn't great, we could barely hear people in India when we were in video conferences with them, we didn't understand each others' culture, and we hadn't chosen the team leaders to ensure their values and way of working aligned. It was hard. Stephen suggested I head to India and spend 6 months there building the team from the inside. I lived in Pune for 8 months, building that team and product and we achieved great, unprecedented things together.
From there I moved to Canva. I was one of those people who was told they were crazy for joining a startup during Covid. I couldn't be dissuaded, though, I'd found my people. And here I am, still at Canva. It's a place where I've been able to do my best, most impactful work yet.
Again, I am only here because people opened doors for me and I could not be more grateful to Nicola, George, and Stephen for lifting me into greater challenges.
How did you end up working in this industry?
After spending time in banking and telecommunications I wanted to flex different muscles by going to a much smaller company. I also wanted to be somewhere that was female-led and Canva ticked both of those boxes.
What do you wish people knew about a career in Product?
I've read the book "The Seven Principles for Making Marriage Work" maybe 6 times now, which is hilarious because I'm not married* BUT this book gives me so many tips for managing relationships. I've found the better I become at growing and improving relationships, the easier Product becomes.
*Unless you're my mum or my grandmother, in which case, this is not hilarious.
What's your go-to resource recommendation for Product people?
Lol. See above. It's not a product manual but it's the best thing any product person could read.
What has been the best career advice you've ever received?
It hasn't been explicit advice but watching Mel lead Canva has been transformative for me.
She invests so much in storytelling and bringing people on the journey. She exudes joy. She's kind. She's empathetic. I feel like I have a model of the kind of leader that I want to be from watching her.
Welcome to our WIDAwards Alumni! We want to know… what does winning this award mean to you?
It's been a good moment to pause, feel proud and then reflect "Ok, I've had a positive impact, am I doing the most that I can to amplify that and apply that where it's needed most" and it's inspired me to plug into schools and start-ups more so that I can help and support others' growth.
Obviously, Canva is a game-changer in terms of design software (and our go-to at Women in Digital HQ)! But tell us why you think Canva is so important for creators (and the wider public for that matter)?
Canva is on a mission to empower the world to design and diversity and authentic representation are at the heart of that.
With our Creators, we are able to partner with designers, videographers, photographers and illustrators all over the world to provide truly diverse local content for every Canva user.
Users benefit from this, they can come to Canva and find content that represents their culture and use that to authentically express themselves.
Our Creators benefit too. The last 2 years have been turbulent for artists, worldwide. First, we had Covid hit. When this happened we had just started the Creators beta and it was at a good time because many designers had been laid off. Many of us were also locked down. The Creators product gave us a community to connect, learn, explore, grow and earn together. Even now we have Creators share how meaningful the partnership between Canva and Creators has been.
Tell us more about your journey with Canva! Do you have any key personal highlights?
There's so much I could talk to here… the impact the Creators team has had is so wonderful. The biggest highlights, though, are notes that the Creators send us. 
Here are some of the highlights and stories, which make me smile, which I regularly go back to:
"Something that started as an extra, dedicating a little time when I could, became a very important pillar in my life."
"I realized that it wasn't just a job, it was something that fulfilled me. From the creative freedom it offers, the human quality of all those who are part of it and the joy of sharing my designs with many people, it really is something unique… Thank you #Canva for making my days happier and to all the team that accompanies us every week. Today we are a #canvafamily and we have a lot of love and templates to share"
"Just want to say thanks to the Canva team. I am going through the toughest time as my father is admitted in hospital for the last three months and has no insurance. It wouldn't be possible for me to bear all the hospital expenses but Canva creator's income helped me a lot. Canva is just not saving time it's saving lives too."
"At late evening, when the [baby] is asleep we both thank god that you found us. We are so happy to be with you guys on this adventure. Lifetime experience and feels like we are actually working with you guys, feels like we have a team! :)"
"I really, really appreciate all that you and the team are doing at Canva. This is my first time working with a company that really listens to and understands designers, and also takes quick action to make things easier! I really love the experience and can't wait to see how things progress"
What do you consider the biggest challenge you faced while working on the Canva Creator Marketplace? How did you overcome it?
The war in Ukraine has been – by far – the greatest challenge that we have faced.
When the war broke out, we had a heartbreaking moment when we realised we had thousands of Creators in Ukraine and they were at risk. Some of these Creators I know personally and would consider a friend (Hi Ilona!). Canva quickly mobilised to distribute $500k to Ukrainian Creators via our Peacefund, knowing many would not be able to design at this time but would need money.
Seeing their appreciation filled our hearts with so much joy. Soon after that, Canva made the decision to exit Russia. 
We had so many stories of everyday Russians who weren't supportive of the war but wanted to continue creating for Canva. We were incredibly sad that we could no longer continue that partnership.
We worked through both of these challenging times, by banding together as a team, as a company and as a community.  
It was the most challenging time for us, but we leaned on each other, we kept communication lines flowing and we worked tirelessly to respond in the way that was the most aligned with Canvas values.
What is next for you and Canva in 2023?
We're really just 1% of the way there. It will be another massive year ahead as we continue doubling down on the huge opportunity for Canva, especially among teams and workplaces. We're also continuing to hire around the world. Finally, we're continuing to double down on innovation. We were the first to market with our Text to Image product which we announced at Canva Create. We're excited to be working on lots more in this space like the recently released AI-text generator, Magic Write as well as continuing to build upon all of our new Worksuite products.
What's your personal philosophy when it comes to customer experience design?
Don't be afraid of doing things manually and hackily (is that even a word) first. In fact, have fun doing that, it's how you learn what your customers actually need.
What would you tell someone interested or unsure about what a career in tech looks like?
It's the way of the future.
If you aren't in tech, you are cutting yourself off from the industry that has and will continue to have the greatest and most accelerated earnings opportunities. Women need to be in this space, or else, you will miss being in a space that is experiencing steady earnings growth.
What do you think can be done to improve diversity in the digital industry, particularly in more technical positions?
I mentioned Nichola Ronan and George Robinson earlier. What was probably a small gesture for them (suggesting I do a double degree and inviting me to join his team so I can explore a career out of HR, respectively), changed my life and career path.
If more people in leadership create these micro opportunities for the next generation, these tiny opportunities shape people and send them on a different path. Sure, you might be in a tech space and they probably won't understand what's going on but it matters. Every opportunity matters.
What do you believe is the importance of industry awards such as the Women in Digital Awards?
It spurs so many convos about women in tech. Social proofing and opening doors.
And finally, Bec, if you could leave the Women in Digital community with one parting word of wisdom, what would it be?
Give young people micro opportunities. Have a work experience student shadow you for a week, volunteer in a mentoring program, suggest an intern spends time in your team – do something that opens students' eyes to other spaces – esp if they come from disadvantaged backgrounds, they won't even know that these areas exist.
Once again, congratulations Bec on this achievement and thank you for taking the time to chat with us!
To read more Q&A blogs from our line-up of Women in Digital Award Winners, head over to our blog and keep an eye out for more stories on our LinkedIn, Facebook and Instagram. You can also see our incredible list of 2022 WIDAwards here.