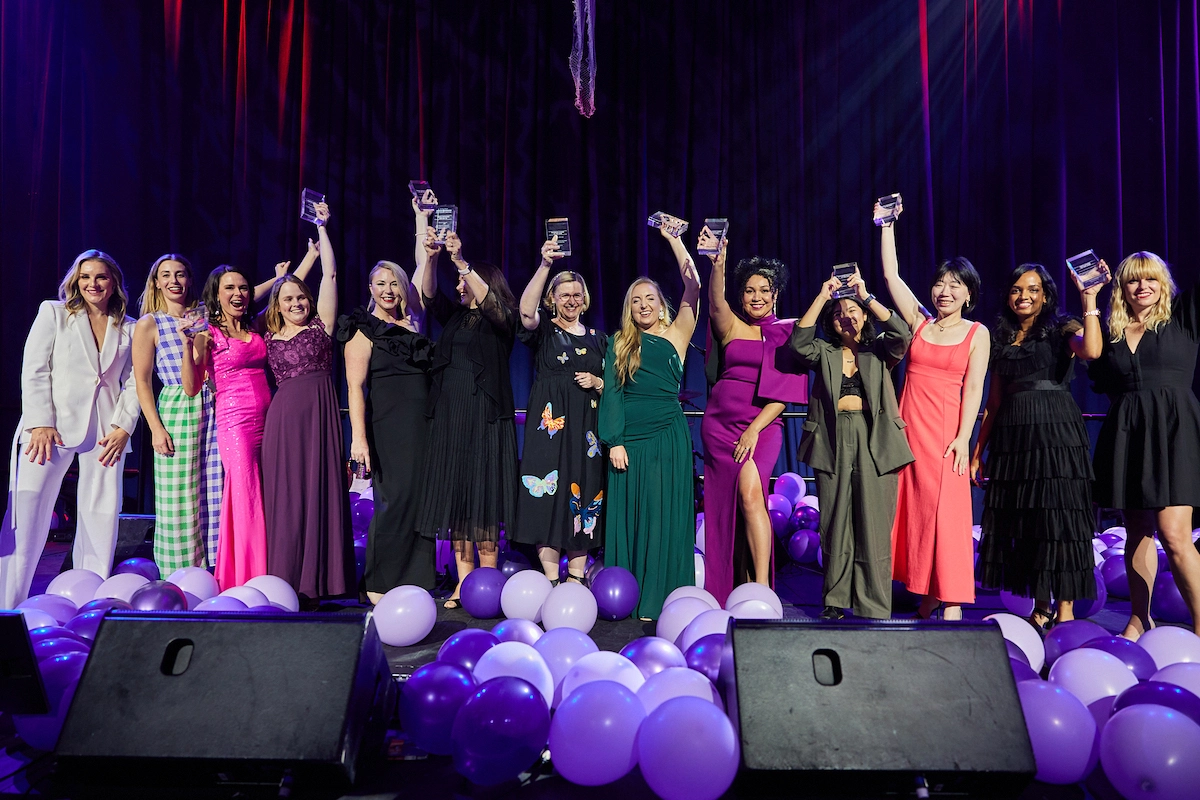 ---
Winners announced for the 2023 Women in Digital Awards
Women in Digital is thrilled to announce the winners of the 2023 Women in Digital Awards. From 75 finalists across 15 categories down to just 15 incredible women in digital, we are proud to introduce you to this year's winners.
"The Women in Digital Awards were founded in 2018 based on the idea 'you can't be what you can't see' and celebrate incredible individuals within the digital industries and the organisations that support them. We are now in our sixth year of spotlighting these incredible leaders so the next generation can see it, and be it.

From Founder of the Year to Software Engineer of the Year, the Women in Digital Awards provides a platform for women to celebrate their achievements, an opportunity for the digital community to lift up others in the industry and finally, a chance for us to come together to celebrate organisations and individuals that are making outstanding contributions to the industry and improving diversity in digital. All entries to the awards were incredibly compelling and everyone who was nominated should be incredibly proud of themselves. – Holly Hunt, CEO & Founder of Women in Digital
You can learn more about the 2023 WID Award Winners and their entries here.
2023 Women in Digital Award Winners
Renee Noble – CEO, Tech Inclusion (NSW)
Winner, Champion of Change powered by BlackCard
Renee Noble is CEO of Tech Inclusion, CEO and Founder of ConnectEd Code and Cloud Advocate for Microsoft, where her passion for technology, education, and community is at the heart of her professional journey. Renee's nomination was centred around her incredible work with the Girls' Programming Network (GPN) working to improve tech education for people of all ages and levels of experience, particularly women and girls.
Abby Phillips – Senior Designer, Kablamo (VIC)
Winner, Customer Experience Leader of the Year powered by Symplicit
Abby Phillips is a Senior Product Manager at Kablamo and has been crowned the winner for her contributions to Firestory, a cloud-based data and AI platform for bushfire management that is turning limitless data into life-saving decisions. Leaning into social media and how users propagate important information online, coupled with Machine Learning, AI and data mechanics, Abby and her team have created an efficient way of distilling geolocated data that allows rescue services to predict fire and disaster outcomes more accurately.
Elakkiya Ramarajan – Lead Data Scientist, VAPAR (NSW)
Winner, Data Leader of the Year powered by Shell Energy Australia
Elakkiya Ramarajan is a Lead Data Scientist at VAPAR, a leading provider of AI for managing pipe condition assessments. Leveraging her expertise in AI, ML and computer vision, Elakkiya has transformed workflows and decision-making within VAPAR, propelling the organisation to the forefront of innovation.
Belinda Lloyd – Marketing Projects SME, Servco Australia (QLD)
Winner, Digital Marketer of the Year powered by Salesforce
Belinda Lloyd is a Scrum Master, tech mentor and Marketing Projects SME at Servo Australia where she explores the power of data and technology in marketing to deliver business results that exceed expectations and create positive customer experiences.
From her expertise in data-driven and growth strategies to her innovative use of MarTech, Belinda has shown she is a leader in digital marketing.
Carrie Hu – Head of Digital Product, New Aim and Chief Digital Product Officer, Dropshipzone (VIC)
Winner, Digital Transformation Leader of the Year powered by TechnologyOne
Carrie Hu is the Head of Digital Product at New Aim and Chief Digital Product Officer at Dropshipzone, Australia's leading B2B2C marketplace delivering digital solutions to real-world problems. Navigating a saturated marketplace and supply chain disruptions, Carrie has lead her team to overcome digital transformation challenges with true finesse and deliver a truly impressive project.
SAP Australia (NSW)
Winner, Digital Workforce for the Future powered by the Queensland Government
SAP Australia is a market-leading software and technology company with a vision to help the world run better and improve people's lives. Our judges were very impressed to see SAP lead from the front with their digital skills initiative, achieving fantastic results as they work toward their major commitment to equip two million people with digital skills by 2025 globally
Private Media (VIC)
Winner, Employer of the Year powered by Hunt & Co.
Founded in 2001, Private Media is Australia's leading independent media company who were chosen the winner for their impressive initiatives and growth, including but not limited to, delivering impressive parental leave inclusions, partnerships with Indigenous communities, improvements to the recruitment process and emphasis on diversity, inclusion and wellbeing.
Fiona Boyd – CEO, ipSCAPE (NSW)
Winner, Executive Leader of the Year powered by Avanade
Fiona Boyd is the CEO of ipSCAPE, an Australian cloud-based SaaS company. Fiona is a dedicated and collaborative senior leader with a passion and demonstrated track record for building successful teams, businesses, and new products over her 25+ year career. Fiona's submission was incredibly compelling and it is abundantly clear Fiona has made a significant impact as a leader whose authentic leadership style, courage to lead through uncertainty and upstanding character has transformed ipSCAPE into a thriving organisation.
Christina Hobbs – Co-Founder and CEO, Verve Super (NSW)
Winner, Founder of the Year powered by the Office of the Queensland Chief Entrepreneur
Christina Hobbs is the CEO and Co-Founder of Verve, Australia's first superannuation founded by women, led by women and tailored for women. It is the only super fund in Australia that invests with a gender lens that is also ethically screened. Ultimately, Christina's entrepreneurial vision, strong social impact and exceptional purpose executed with tenacity has landed her the title.
Louisa Warren – Manager Office of Indigenous Engagement, CSIRO (QLD)
Winner, Indigenous Leader of the Year powered by RACQ
Louisa Warren is a proud Torres Strait Islander passionate about working with Aboriginal and Torres Strait Islander people and non-Indigenous organisations to create positive outcomes for her community, leading a first-of-its-kind project in her role in CSIRO – an Indigenous Jobs Map, an Indigenous-led online platform leveraging AI to support Indigenous employment outcomes.
Rebecca Dredge – Founder and CEO, Kiddo App (QLD)
Winner, Innovator of the Year powered by Auto & General
Rebecca Dredge is the Founder and CEO of Kiddo, an app launched in 2019 that connects parents to local, verified and affordable babysitters, nannies and NDIS care for children. It is the first care platform in Australia that provides both C2C, B2C and NDIS functionality.
Shenal Harakh – Founder and Developer, Shenal (NSW)
Winner, Rising Star of the Year powered by Entain
Shenal Harakh is a freelance Digital Strategist, a no-code Developer and is currently on the cusp of creating her own agency firm. Despite being so early in career, Shenal has expertly carved out a distinctive niche for herself in the Australian no-code space and shows an inspiring commitment to giving back to the community.
Riva Mendoza – Associate Software Engineer, Canva (QLD)
Winner, Software Engineer of the Year powered by Youi
Riva Mendoza is an Associate Software Engineer at Canva whose outstanding passionate display of ownership, strong technical ability and leadership as an early career Software Engineer earned her the title of Software Engineer of the Year.
Teena Glassick – Senior Director, Product Engineering & Operations, Skedulo (QLD)
Winner, Technical Leader of the Year powered by Culture Amp
Teena Glassick is the Senior Director of Product Engineering & Operations at Skedulo, leading a global product engineering team of 90+ engineers and driving Skedulo's culture, process and delivery across all product engineering teams globally. Teena is described as an inspiring leader, a dedicated mentor and a passionate advocate for diversity and inclusion.
Demelza Green – Principal Experience Engineer, Patient Zero (QLD)
Winner, UX Leader of the Year powered by Rio Tinto
Demelza Green is the Principal Experience Engineer at Patient Zero whose sophisticated AR app in partnership with Indigenous-owned and operated cultural hub, Birrunga Gallery, won her the 2023 UX Leader of the Year title. Demelza's entry deeply demonstrated strategic leadership, a focus on user-centred design, innovative design thinking and a deep commitment to cultural integrity.
Women in Digital Awards Partners
The Women in Digital Awards is only possible with our partners. Thank you to our following partners:
Gold Partners – Cisco and Data#3
Silver Partners – Rivernet and Amazon Web Services
Bronze Partners – Jumbo Interactive, Youi and Shell Energy Australia
Photobooth Partner – Rio Tinto
Entertainment Partner – Vocus
Events Partner – Bright Humans
Category Partners – the Office of the Queensland Chief Entrepreneur, Avanade, Salesforce, Auto & General, Entain, The Queensland Government, Shell Energy Australia, Culture Amp, Rio Tinto, RACQ, Youi, Symplicit, Hunt & Co., BlackCard, TechnologyOne
---