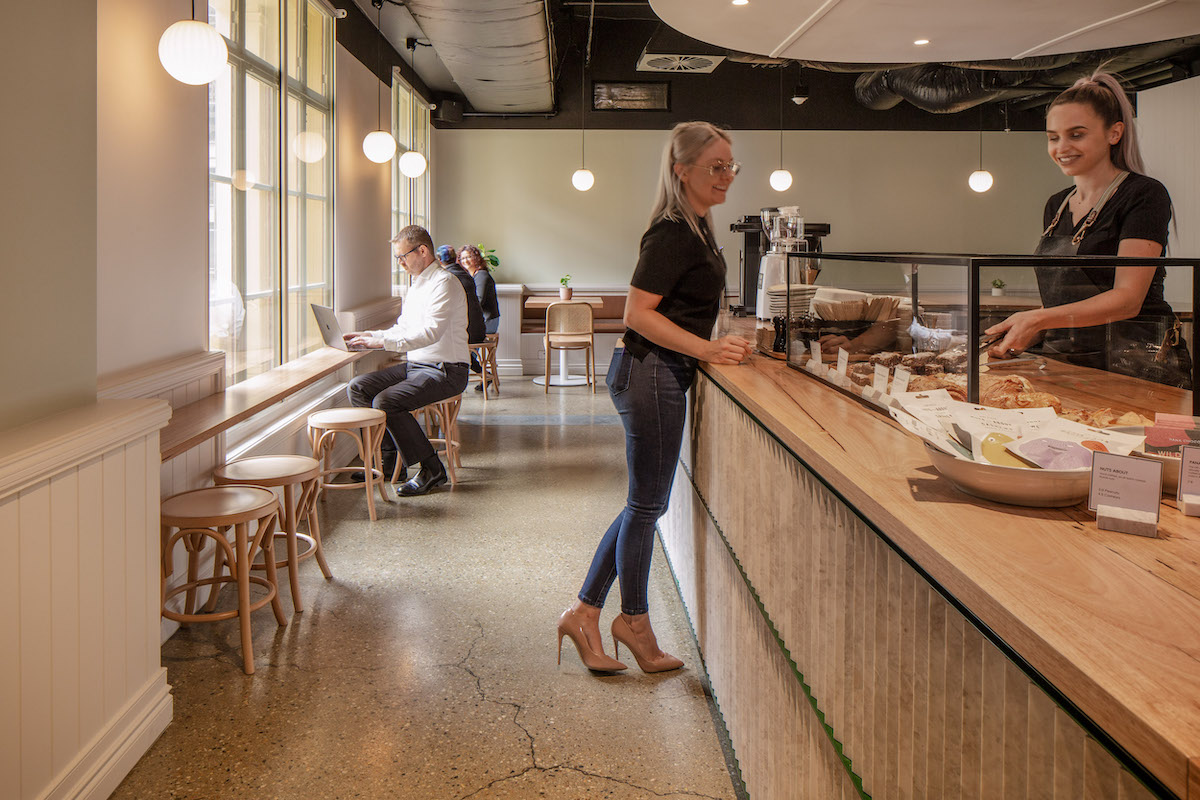 ---
Love where you work and accelerate your business at Hub Australia.
Founded by Brad Krauskopf in 2011, Hub Australia provides state-of-the-art functional workspaces designed for organisations of all sizes to focus and grow their business. With stunning hospitality areas, cafés, professional development events and end-of-trip facilities, Hub Australia is more than just an office space – it is one of the largest Australian owned and operated flexible workspace providers. Their workspaces can be found in Sydney, Melbourne, Adelaide and of course, Women in Digital's own beautiful location in the heart of Brisbane city.
We chatted to Hub Australia about their impressive growth, the popularity of co-working spaces and what it is like to be a member of one of Australia's Best Places to Work.
We love Hub Australia and are lucky to call it home for 2020, but tell us, what makes Hub Australia special to you?
The community at Hub is wonderful and incredibly diverse – we have teams from large global businesses working alongside and creating relationships with entrepreneurs and startups in the same spaces. 
Our great team also works to support and connect the members in lots of ways, and we've seen hundreds of great business connections and collaborations on top of the social relationships made in the space.
What is something that not many people know about Hub Australia?
We were the first B Corp Certified co-working space in Australia, and are set to be the first Carbon Neutral Certified co-working space recognised by the Australian Government.
Co-working spaces are still a relatively new phenomenon, do you think that they'll eventually become standard?
Co-working has been in Australia for almost ten years, but has really started to gain traction in the last 3-4 years. Co-working and flexible office spaces are a logical choice for most businesses, but many people get stuck in the habit of commercial leases without researching alternatives and all their benefits.
When you look at it, moving into an all-inclusive co-working space like Hub Anzac Square lets you work in a beautifully designed space in the centre of the CBD, upgrade your membership or office space when you grow, and use great amenities like our fitness studios, media studios, fully-equipped member kitchen, and our in-house cafés.
On top of that, Hub looks after all the day-to-day logistics – we keep the plants alive, make sure everything's looking lovely and working as it should, greet all your guests, and our Community Leads and Member Experience team work hard to help your business stay happy and successful with events, benefits, and networking.
Why do you think co-working is so popular?
As well as making financial and logistic sense for teams and businesses, co-working has risen in popularity due to the great communities. Our members build strong professional relationships and friendships with each other, and each of our locations has an intangible 'vibe' that contributes to it being an enjoyable space for working, holding meetings, and having social catch-ups. Outside of COVID-19 restrictions, we foster these communities with member events including Wellness days, Breakfast Club, and our popular weekly Wine Down sessions (Brisbane is lucky enough to have them in our beautiful rooftop space!).
Co-working is also popular due to the flexibility – we offer everything from one-off day passes and virtual offices up to dedicated desks and office suites for large teams. This makes it incredibly accessible for professionals – a lot of members come in on a day pass or for a tour and fall in love with our spaces and community.
What do you think sets Hub Australia apart from other co-working spaces?
Hub Australia aims to help every member love where they work – we focus on creating premium experiences through hospitality, space design, programming, and community management, while also helping our members to live something bigger with our focus on growing positive impact through our communities with things like our Flexi Impact program and B Corp certification. 
The majority of our members credit our amazing clubhouse teams as a highlight at Hub Australia – they consistently go above and beyond to ensure our members have positive experiences at Hub, from welcoming guests with a smile and a quality coffee to finding the right space and community connections for each member.
How has Hub Australia adapted to COVID-19 restrictions?
At Hub we worked swiftly to make sure our spaces stayed as safe as possible for our members, upgrading our cleaning schedules and focus points, ensuring all communal spaces are set up for social distancing, and adapting our in-house cafés and member amenities. We put together a comprehensive communications program for our members, keeping them fully across all our changes and creating a brochure for them to share what steps they could take to ensure they and their teams remained safe too.

Hub is also the founding Australian representative on the Workplace Operator Readiness Council, a global board working to set standards for everyone operating offices and workspaces following COVID-19.
We absolutely love the perks of being a Hub Australia member! What do you think are the best perks/ benefits?
There are so many! When you're in the space, you get to make use of all the amenities, whether it's using the end-of-trip services, spending some time in the fitness studio, or cooking up a storm in the full member kitchen. We also have dozens of discounts available to our members, covering everything from premium stationery at MiGoals to big discounts at FitBit, ASOS, and savings on groceries. 
There are a lot of savings to be had, and our members can also offer their own discounts or benefits to our national community to reach new markets and potential clients.
Hub Australia is also on track to becoming a fully-certified carbon neutral organisation, how have you achieved this?
Our carbon neutral certification has been a long time in the works, and we're very excited about it! We set it as a goal a few years ago, and have worked to ensure we can have a carbon neutral product rather than just our organisation. This is great because it means that every membership and every Hub location is now 100% carbon neutral. This also makes it easier for our members to achieve their own carbon neutral or B Corp certification, so we hope to see more people making environmentally-minded changes into the future.
Looking for extra space to facilitate return to work post-COVID-19? Or just looking for a new flexible office space? Find out more about Hub Australia's range of workspaces and membership options here.
---