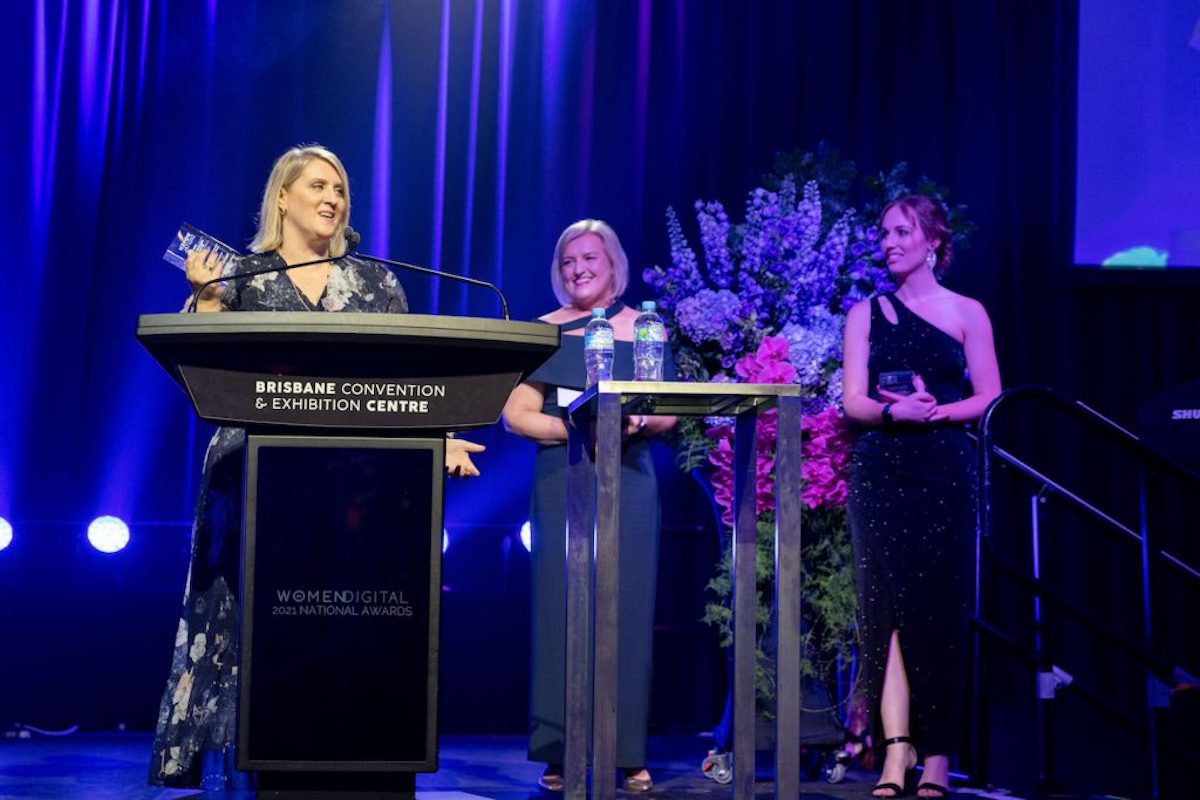 ---
Introducing the 2021 Executive Leader of the Year, powered by Avanade, Tracy Whitelaw!
Tracy Whitelaw won this award alongside Professor Mary Foley AM.
Tracy Whitelaw is the Chief Digital Officer at Local Government Association of Queensland (LGAQ), leading the digital transformation and data maturity of 77 Queensland councils to help the councils better serve their communities. Under her leadership, LGAQ are setting up the LGAQ Innovation Lab, powered by Telstra, and in conjunction with Google, Facebook, local startups and universities.
The judges were particularly impressed with Tracy's use of technology to serve the community and drive innovation across local government.
We were thrilled to talk to our 2021 Executive of the Year about her winning entry, career and thoughts on diversity in digital.
Congratulations Tracy! You have no doubt had an impressive career so far, but tell us, who is Tracy the person?
Oh this is a great question! I am not sure I'm that much different from anyone else. I'm a wife, mother, nonna, daughter, self-professed geek, nerd, gamer, lover of learning and gadget fan to name but a few parts of me. I'm also a Scozzie – Scottish Australian – having come here in 2007 and proudly calling QLD home.
What is something that not many people know about you?
A lot of people don't realise I've been with my wife for 23 years, married for 3 of those and that I'm a nonna to an 8 year old and a 6 year old, Jaxon and Aria who are the absolute light of my life. When people find out they usually say "you're way too young to be a nonna!"! But I am, and that's a story for another time!
Welcome to WID Awards Alumni! We want to know… what does winning this award mean to you?
I am so honoured to have won this award, it was completely unexpected for me. It means a lot because I've seen the ripple effect that it's had on my friends, family and professional network. My family have been so proud and so excited to celebrate the win with me and my friends and team at work have gone all out to congratulate me and continue to remind me of the great achievement. Similarly, I have had so many people in my network reach out and I hope that they can see that it's possible for them to win something so amazing too.
It is commonly recognised that there are fewer female leaders in digital and technology. How did you end up working in this industry?
I feel like I accidently got into it! I had a keen interest in digital communications in my undergrad degree and I've always been a bit of a digi-nerd since I was a kid, where I always had the latest computer or gaming device. When I moved to Australia I took a job as a content writer for a startup company who created AI chat bots (back in 2007!). In that role I quickly evolved into their Chief Knowledge Engineer and we created chatbots for companies like NASA, AMP, NAB and more. From there I was all in on digital solutions and digital communications and I combined both working as one of the first Social Media Specialists in local government for Brisbane City Council in 2010. After that, my career really just continued to evolve across the digital ecosystem and I've been focused on getting to a Chief Digital Officer role which I achieved in 2020.
We were inspired by your remarkable journey and evident admiration you have from your team. In a bite-sized summary, what does leadership mean to you?
Leadership is an honour, not a right. For me it's about trusting your team to do the job they were hired to do. My role is really setting the vision and helping us get where we're going. It's about supporting them when they need it and getting the heck out of their way to let them shine. I think alongside trust, the biggest part of leadership is listening. I learn as much if not more from my team than they learn from me I'm sure. The trick is to hear them and action things where you can, it's important to show you're supporting them and always be there to get in the ring with them when they need you to. Roll up your sleeves and show up for them like they do for you.
The pandemic has been a challenging time for many leaders. How have you managed to keep your team engaged through COVID?
I am a big fan of ongoing communication with my teams whether that's face to face or online. I have regular one on ones, team meetings and daily chats. We continued this through COVID, by ensuring that we stayed engaged online by having regular meetings, social events like trivia, coffees and more. We are a team that talks a lot, so staying engaged during COVID was an extension of what we'd normally do, but with a little more check-in time to ensure people weren't feeling isolated or struggling.
What is one thing you wish someone told you about what a career in leadership is like?
I wish someone had told me that it's okay to not always know what you're doing or whether the decision you're making is going to turn out positively. It's hard, but being in a leadership role means people need you to sometimes make the hard calls and you can only do what you believe is right, with the knowledge you have available to you at the time.
What do you believe is the importance of industry awards such as the Women in Digital Awards?
It is important to continue to showcase the amazing work women are doing in this space because it does continue to be dominated by men. I think that seeing so many amazing women being nominated or winning is inspirational to other women who work in the digital field. Also, I think having the opportunity to showcase the work you're doing on a national stage is wonderful. I've had so many people across Australia (and the US) reach out to me to congratulate me, so getting to put the work that local government in QLD are doing in digital under the limelight like it has, has been extremely important.
Who is your professional inspiration?
I'm a big fan of Gloria Steinem because I love that she led the way for the feminist movement and still continues to passionately advocate for that. I like that she carved a path for women to have a seat at the table, to fight for equality and that she embraced diversity at a time when many didn't. She fought to have women of colour and lesbians considered as a key part of the women's equality movement. I am inspired that she recognised diversity brings strength and is something that should be the minimum we're willing to accept when it comes to our professional environment.
What's your most recommended business or leadership resource?
I love reading academic journals and books. I'm a big fan of Brene Brown when it comes to leadership because I feel like I can connect with her empathetic and vulnerable leadership style. I like academic journals because I'm a bit of a learning nerd and like to study, so they work well for me. Also, I really cannot underestimate the power of Linkedin which I've become a massive fan of over the last few years. It is great for connecting and learning more about what's happening in your field.
In what ways do you think diversity is important to someone in a leadership role?
It is critical. Diversity in your team will bring diversity of ideas. You can't expect to deliver a good product or service to your customers if you have people lacking diversity making the decisions. We are all different and we should embrace that. As a woman in digital and as an out lesbian for many years, I have always felt I've been in the 'diverse' category, so I always strive to ensure I bring a wide range of diversity to every team I have with the people I employ. We all deserve a seat at the table.
What do you think can be done to improve diversity in the digital industry, particularly in more leadership positions?
If you're in a position of leadership, make the difference. Help others into the same position. The excuse 'we couldn't find any females/indigenous/people of colour' during the recruitment phase is one that needs to die. Change your recruitment process. Alter your adverts. Amend your targeting. Make the commitment to actively seek diversity and every chance you get, look to create a space for someone who is different from you. That's where the magic happens. I'm a little tired of seeing the bro club in so many digital organisations and of seeing the 'male, pale and stale' on executive teams or boards. Not to say they don't have a space, but just not ALL the spaces.
What tips do you have for early-in-career professionals aspiring to achieve leadership positions one day?
I never thought I'd be a leader as I was painfully shy during University. I couldn't even show up for group work as it would make me so anxious. I also hated public speaking. So my advice would be, don't count yourself out. Surround yourself with people who support you and who you can learn from. Don't see them as competition, look at what you can learn from them and offer your own skills and expertise to them. There is always something you can bring to the table, find what it is and work on improving it. Also, don't take critique personally (which is really hard!), use it to get better.
What technology development is most exciting you at the moment?
I am the founder of a VR/AR company called HavenXR and I'm extremely excited about the potential for the metaverse in its many forms, not just the Facebook element! We're working on pushing the limits of technology to create a fully immersive VR/AR location-based entertainment. HavenXR will entirely immerse participants in a new sensory experience where technology and content are developed from the ground up to create an exciting experience and that's just the beginning. This is what's really exciting to me at the moment in terms of technology development and I'm so keen to see where this goes.
Once again, congratulations Tracy Whitelaw on this accomplishment and thank you for taking the time to chat with us!
Want to get involved with the 2022 Women in Digital Awards? Register your interest here so you never miss an update!
To read more Q&A blogs from our line-up of Women in Digital Award Winners, head over to our blog and keep an eye out for more success stories on our Facebook and Instagram. You can also see our full list of winners here.
---