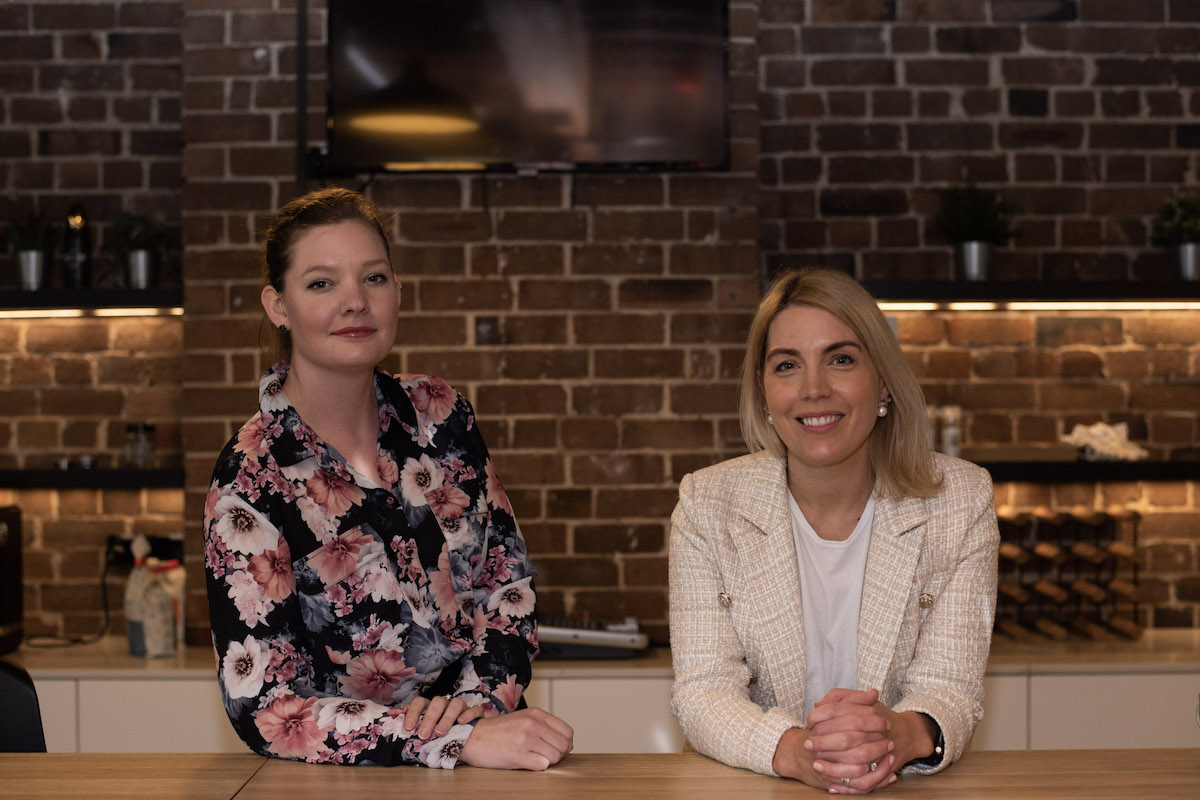 ---
Introducing the 2022 Women in Digital Awards Digital Workforce: Skills for the Future winner, powered by the Queensland Government Department of Communities, Housing and Digital Economy, WithYouWithMe!
WithYouWithMe (WYWM) is a social impact, profit-with-purpose organisation working towards a future where underrepresented groups are offered the opportunity to find meaningful careers. Challenging traditional hiring practices, WYWM focuses on a jobseeker's potential to learn and grow over their previous work experience.
WYWM won due to their incredible impact in assisting thousands of individuals to find their career potential and access free digital skills training. WYWM has more than 75,000 users on their platform globally with underrepresented and underemployed communities including women, veterans, neurodivergent talent, military families, Indigenous communities, refugees and young people at the very start of their careers.
WYWM has recognised its talented and diverse workforce is a key component of its competitive advantage. The judges were thoroughly impressed by their mission and outstanding impact, tackling the global digital skill shortage while creating a more equitable future.
Here's what WYWM's Chief Marketing Officer Alicia Kouparitsas had to say about their win on the night:
We were thrilled to talk to Alicia, about WYWM's winning entry, the importance of industry awards such as the Women in Digital Awards and thoughts on improving diversity in digital.
Click here to meet all the 2022 Women in Digital Award Winners.
Congratulations WYWM for taking home the trophy for this incredible category! We are so excited to be chatting with you! Tell us a bit about WYWM.
Thank you! It's an honour to be recognised amongst such worthy women and organisations.
WithYouWithMe is an Aussie startup that was founded in 2015 to solve the problem of veteran underemployment. We soon discovered that CVs were a significant barrier to employment affecting numerous groups in society. We've come a long way since then and today, we help thousands of people from all parts of society around the world – including women – to find meaningful employment in tech careers.
What I really love about our company is beyond helping people to create meaningful careers, we're also solving a major economic challenge. The digital skills shortage is a significant barrier to growth and productivity around the world, and we're helping to solve it by finding tech talent where no one else looks. We want to change the way people recognise talent and create a path for the underserved. And in doing so, we want to create a more equitable world.
How would you describe WYWM as a workplace in just one sentence?
We're an inclusive, highly diverse and forward-thinking workplace that gives our people the opportunity to thrive by valuing their potential to succeed in a role over their experience.
What is one thing not many people know about WYWM?
While we started in Australia in 2015, our fastest-growing markets are international. We have more than 75,000 users on our platform from around the world – with the fastest growth coming from Canada and the UK. We now work closely with some of the world's biggest businesses and government agencies, including the UK, Canadian & US Governments, which is pretty exciting.
What differentiates WYWM from other organisations you have worked for?
WithYouWithMe is a people-first organisation that is focused on what a person is capable of achieving, rather than if they've previously had the opportunity to prove themselves. We want a meritocracy – where potential is rewarded. This belief is what drives our approach to help any group who is overlooked and under-represented so they have the opportunity to contribute and make a difference.
We're also deeply focused on building communities, groups of people who care for and look after each other. We focus on connection and impact first, and from that comes growth.
Welcome to our WIDAwards Alumni! We want to know… what winning this award means to WYWM?
Supporting more women into tech careers is a key focus for WithYouWithMe, and having the support of the WID community is helping us make an even greater impact in this space.
Currently, women only hold between 17 – 27%* of roles in the tech sector (which is the average rate across the markets in which we operate). We are firmly focused on levelling this number up by increasing female participation in the tech workforce. Many women discount themselves for a tech career as they don't feel qualified or like they have the natural skills or abilities. When you look at the data, this couldn't be further from the truth. We want to help more women to realise the potential they have to excel at a rewarding technology career, and programs like WID are key to helping us get there.
As Chief Marketing Officer at WYWM, what does winning this award mean to YOU??
Our team pours their heart and soul into solving under-employment – whether it's serving the under-served with career pathways for in-demand tech roles, or uncovering latent, overlooked talent within an organisation, awards like this help raise awareness of the important work of our extraordinary team – which in turn helps us make an even bigger impact. We won't stop until we solve under-employment – and we need lots of voices to help us get there.
What does it mean to WYWM to have a commitment to digital skill development and training?
The digital world moves rapidly, and skills are constantly evolving. When it comes to tech careers, degrees and past jobs are not as valuable as the right aptitude, attitude, learning style and psychographic profile to quickly pick up the skills needed to thrive in digital. Our proprietary assessment software is more suited to identifying tech talent than any measure in the market, and certainly more effective than a CV. The utilisation of assessment and skills mapping remains the least developed aspect of the recruitment process. It is our superpower, and it's how we're helping individuals build meaningful tech careers and organisations bridge their digital skills gaps.
Whilst WYWM has clearly made an impact with its' free digital skill development training, what is WYWM currently working on internally to improve or add to its current program, grow the team?
Our 'Discover Potential' program has helped place thousands into work at some of the world's biggest employers – which has given us the opportunity to show organisations our approach can also help them manage and optimise their own workforces as well.
'Grow Potential' is a new product we've recently launched to support this demand. Grow is a data-led employment platform that uses our profiling and assessment technology to create an accurate assessment of team productivity and employees' natural strengths, hidden abilities and potential to be successful in a role.
Grow Potential is perfect for organisations looking to create meaningful career pathways for their employees with a focus on reskilling, career development and retention. It also helps guide decision-making around workforce planning for change management and business transformation.
This is a really exciting area of growth for us and will help fuel our broader social impact program. Every software licence we sell to an organisation allows us to train 10 individuals from diverse groups for free.
What advice do you have for organisations wanting to put forward for a submission for an awards program but aren't sure if they should?
It's really easy to be task-focused and always be working on the next big thing, without stopping to celebrate the wins along the way. I think awards are a great way to reflect on and acknowledge team achievements and my advice is to just throw your hat in the ring. Whether you win or not, you have the opportunity to share your team's hard work and to connect with others in the industry who are doing great things. I've made some wonderful connections through the WID network and definitely encourage you to get involved!
Aside from WYWM's incredible skills training program, we would love to share more about WYWM's approach to improving diversity within the company.
As an organisation, we practice what we preach and most of our own employees have been sourced from our diverse talent pool. All of our people do our aptitude assessment at the start of their journey with us, and we continue to review these results to ensure we are carving meaningful careers that allow our people to achieve their potential.
Every time we read WYWM's nomination, we are in awe! Tell us more about your 'profit with purpose' model and its impact
Many people experience hardship as a result of outmoded and biased employment practices. People who don't have years of experience, degrees, or shiny corporate connections are often overlooked for job opportunities, regardless of their potential or their fit for the role. This triggers our deeply ingrained sense of justice. We want to help under-served communities to overcome the prejudices of the corporate world, and provide a lifeline to those who need it most.
We know there is a huge propensity for tech roles in untapped talent pools of people from overlooked or under-served segments of society. We know the cycle of unemployment and underemployment is degenerative and intergenerational. We know the barriers to entry from traditional training and education models preclude these groups. We want to change all that.
We've helped thousands of under and unemployed people find their potential without investing years and money into education because we train fast, and our training is free for these communities. We constantly reinvest in our product and our communities to provide training to more overlooked individuals, because we believe in a more equitable society.
WYWM is leading the way in its commitment to supporting many underrepresented communities through digital skills training. What are some simple steps or quick wins other progressive employers can do the same?
So many organisations say they can't find the tech talent they need. We believe this talent exists in under-represented groups in society and is often sitting dormant within many organisations as well. There are many people who are in administrative roles in a business who could be quickly trained to step into an entry-level tech role.
Leaders need to challenge the traditional way of recruiting and workforce management to fix this problem – and we can help. We've just launched an introductory program that gives organisations that are curious to work with us the ability to access a heavily-reduced pricing model, so they can see the benefits for themselves.
There's the option to hire diverse talent into their organisation, or to test and train 100 of their people in their existing workforce to upskill in new roles. It's a great deal designed to help us make a bigger impact, but it's limited time, so get on board quickly!
How does WYWM aim to remain committed to your learning and development initiatives in the future?
We believe in continuous and lifelong learning – particularly when it comes to digital skills. Every time we deploy an individual into an organisation, we continue to provide them with access to our platform so they can continue to upskill over time. This helps the individual grow their career, and the employer to future-proof their workforce.
From our own organisational perspective, training is also key to our organisation. We work in six-week sprints – which we call Fierce Cycles – and week 1 is always a training week to give our people the opportunity to grow their knowledge and expertise.
Is there anything you can share about the future of WYWM?
We remain committed to solving under-employment globally and are continuing to bring on board exciting, inspiring partners in countries around the world to help us do this. The year ahead will see lots of growth, into new geographies but also new communities where we can make the biggest social impact possible.
What do you believe is the importance of industry awards such as the Women in Digital Awards?
Fostering a culture of innovation and inspiration is important in helping us improve the way we operate, whether it's at the individual or organisational level. Industry Awards like the Women in Digital Awards provide a smorgasbord of inspiring people and innovative practices that will drive our sector forward. We need these forums to celebrate the wins and also keep us moving forward.
What technology development is most exciting to you at the moment?
Generative AI – and in particular Generative Pretrained Transformers – is fascinating and has so many implications for technologists. As someone with a comms background, I've been sceptical but the tech is moving ahead in leaps and bounds and could have an enormous impact not just in driving things like marketing efficiency and effectiveness, but also in programming and computer engineering. Adding it to my learning list for sure.
And finally, Alicia, if you could leave the Women in Digital community with one parting word of wisdom, what would it be?
There's a statistic that often gets circulated around how men apply for a job when they meet only 60% of the requirements, but women apply only if they meet 100% of them.
As women, we need to stop self-selecting out of opportunities. Understanding what we are capable of and the types of roles we can fulfil shouldn't be based on gut instinct or personal perception. Go to the data. WithYouWithMe's approach is based on understanding an individual's true potential – and we provide comprehensive aptitude and attitude testing and career reports for free to all women. Having an informed view of what you could do and be is incredibly empowering. I really encourage everyone in the WID community to jump on our website and get their free assessment so they can see what they are truly capable of. All free and no strings attached. Let's do this.
Once again, congratulations WithYouWithMe on this accomplishment and thank you to Alicia Kouparitsas for taking the time to chat with us!
To read more Q&A blogs from our line-up of Women in Digital Award Winners, head over to our blog and keep an eye out for more stories on our LinkedIn, Facebook and Instagram. You can also see our incredible list of 2022 WIDAwards here.
---