Women in Digital Corporate Spotlight: loans.com.au with Marie Mortimer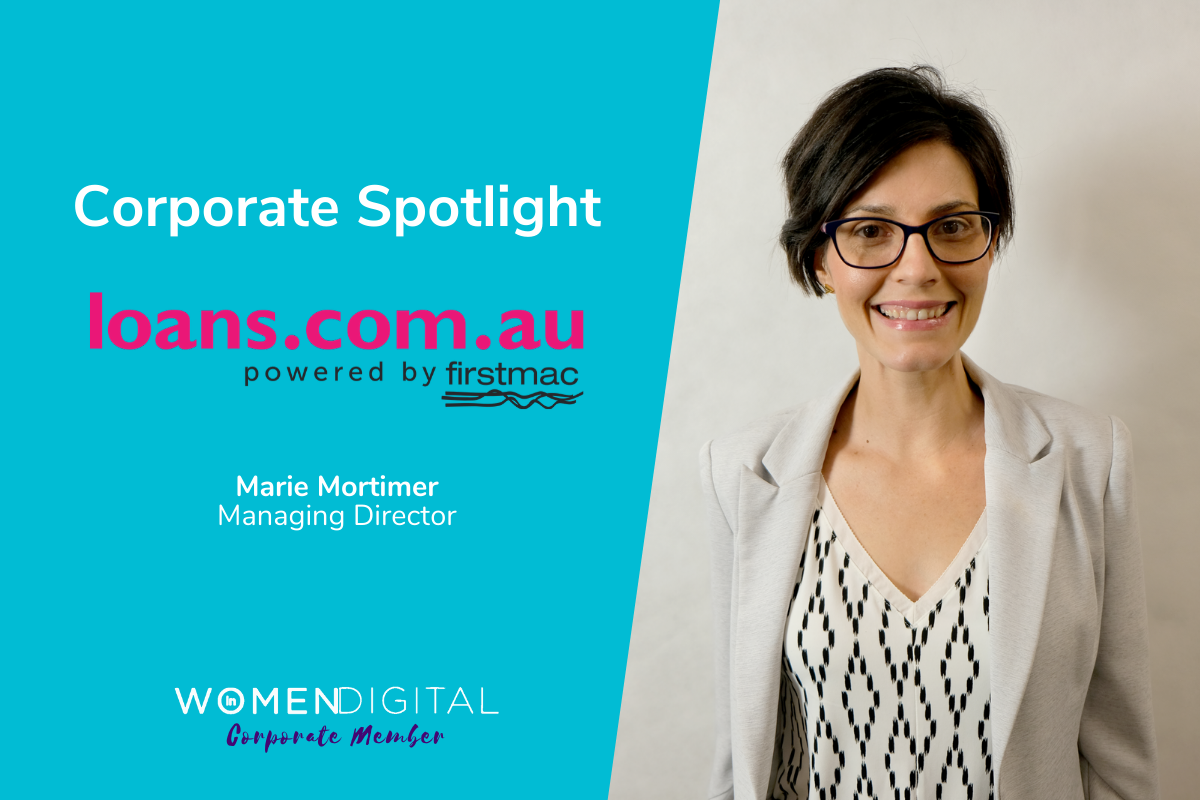 Our job at Women in Digital is pretty special; we get to meet intelligent women and partner with phenomenal digital-centric businesses and sometimes when we are extra lucky, these two intersect. Enter our latest Corporate Member loans.com.au headed up by the accomplished Marie Mortimer. loans.com.au is an award-winning online lender headquartered in the heart of Brisbane, Australia. We sat down with Marie to discuss all things loans.com.au, fintech and the importance of diversity in digital.
How would you describe loans.com.au in just one sentence?
Loans.com.au is one of Australia's largest online lenders of home and car loans, ​and we exist to make it easier for people to own and invest in property.
How long have you been at loans.com.au?
I started loans.com.au 9 years ago in 2011​, and have since grown it into a business with over $6 billion worth of home loans under management.
What is one thing not many people know about Loans.com.au?
Loans.com.au is a part of the Firstmac Group who are Australia's largest non bank lender. By dealing with loans.com.au, customers get the advantage of low interest rates because they are dealing with the funder direct, there is no middle man. ​Plus, we're a Premier Sponsor of the Brisbane Broncos.
How did you enter a career in the finance sector?
I started my career in finance when I finished my degree at QUT in 2002. I have a Bachelor of Business majoring in Banking and Finance with a Funds Management extended major. Quite a mouthful – but I find finance interesting!
What made loans.com.au want to become a Women in Digital Corporate Member?
As a female founder and leader with a lot of women who work for me, organisations like Women in Digital are really important. The finance, technology and digital industries are typically very male dominated, so finding our voice as a group is important. This group brings a lot of different women across many sectors together with their joint passion for digital. loans.com.au is proud to be a part of this network.
Obviously diversity in digital is important to you but what is your definition of diversity and how or why do you think diversity is important?
I believe that diversity isn't just a 'KPI target' that we should be trying to hit. I think it's something that organisations should live and breath because diversity brings different ideas and concepts into every organisation. By willing to accept different points of view, companies can only flourish and grow. It's better for different industries and the customers who ultimately benefit from having awesome and diverse companies.
In what ways do you think diversity is important to someone in the role of Managing Director?
It's important to surround yourself with a lot of different people with different points of view. If you lead with a one track mind, your company isn't going to grow and develop. If you aren't diverse you are just going to follow the status quo – that's no way to run a company!
How would you describe your current thinking about diversity, and how has your thinking changed over time?
As I've gotten older, I've done a lot more research in this area. I've been lucky that I have never felt there was a 'glass ceiling' but the more I research this area the more I understand the importance of diversity and it isn't just something at the top of an organisation. Most people know that I'm very passionate about developing the next generation of female leaders who might still be at school or early on in their careers. I'm all about helping young women find a pathway to the top!
What does it mean to loans.com.au to have a commitment to diversity?
loans.com.au is still ultimately a family business and while we have no set diversity targets, we feel that diversity is something that is a part of our culture. Being fair and conscious of finding team members that fit but also bring different types of experience is important to us. We pride ourselves on our tenure of staff and the way we constantly reinvent ourselves as a company.
How is loans.com.au demonstrating that commitment?
I am extremely proud of the flexible working environment we've created, particularly in my digital team. There are a few parents on the team (male and female), and as a mother I'm very conscious that some parents not only have their paid job, but also their unpaid job as a parent at home. If a child is sick, we are very understanding to let our staff go home to care for their family (whether it's the mum or the dad) without judgement.
And as I mentioned before, I truly believe in the importance of surrounding yourselves with different people and different points of view. Both in my digital team and throughout loans.com.au, staff members come from everywhere from the UK to Indonesia to the Philippines, to China and to NZ and more.
What do you think is the biggest struggle for businesses when it comes to diversity in digital?
There aren't enough women applying for the more technical roles. I find that this is biggest struggle, and it's not because we don't want to hire more women. I believe there are two reason​s for this. Firstly, women aren't being educated in the first place with the skills required for the role. Secondly I believe if they do have the right skills, they aren't putting themselves forward because they don't tick all the boxes! These are two big factors why technology and digital is still very male dominated.
What do you think loans.com.au can improve on when it comes to diversity and inclusion?
I think as we grow we definitely need to understand what formal measures we can put into place that not only looks at regular reporting on how diverse we are, but also set ourselves some more targets. While we have a lot of informal practices around achieving diversity because we know 'what the right thing to do' is, it would be great to spend more time and formalise them further.
To businesses or leaders out there that know they want to improve gender diversity within their team but don't know where to start…. What advice do you have for them?
Read, read and read some more. There is so much research available online about gender diversity. There are so many fantastic books, websites, papers, talks etc available for free. Start there. Then maybe chat to other leaders in your team and your human resources team. Research first and make a plan! There is always a way to educate yourself further in this digital age!
Thank you so much to Marie Mortimer, loans.com.au and their parent company, Firstmac for getting behind the very important mission of diversity in digital. 
If you are interested in learning more about Loans.com.au and their people, click here. You can learn more about our partnerships here.