Insights from the Women in Digital Squiggly Careers Panel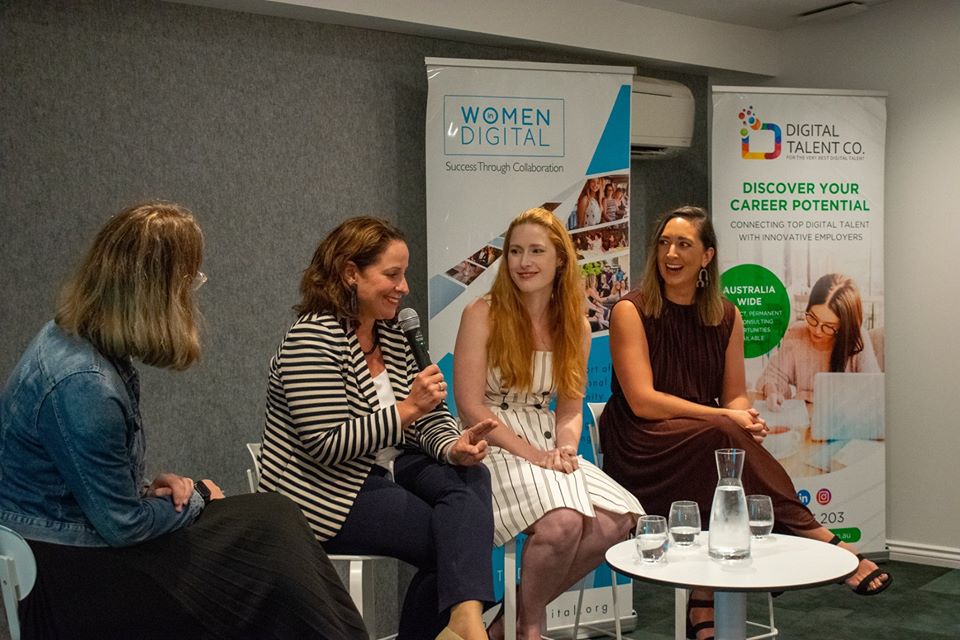 Insights from the WID Squiggly Careers Evening…
The following points are my squiggled down reference notes from an interesting Women In Digital International event that I attended in February 2020. The topic was Squiggly Careers with guest speakers Bernadette Stone, Zoe Caplen-Black and Karen Whiteford.
I picked upon a few common themes as I listened to these three distinguished female professionals during the course of the evening. Throughout their squiggly careers they have retained their positive attitude and embraced the change that was thrown their way. I won't try to summarise their stories, rather expand on a few points that I found particularly interesting.
Look after people and all the rest will follow
From the outset, my handwriting couldn't keep up with all the golden nuggets of information Bernadette shared about what was important to her as a successful leader. Her message, put quite simply; look after people and all the rest will follow. As a leader myself, I strive to surround myself with the best; people that embrace change and have a desire to keep learning. Surrounding our self with the best, as an example, could mean hiring people that are better than ourselves in the areas we need knowledge in. As I continued to listen and squiggle down note after note, I couldn't help but feel a sense of relief knowing that we don't have to feel as if we have to 'do it all'. Whether that be in the home or in the workplace, we tend to juggle and forget to ask for help. Be kind to yourself, give yourself a break. Hiring people with strong leadership and EQ will prevail over capability sets when faced with challenging situations.
Choose values, skills and capabilities and NOT role titles
As a Program Manager by trade, I live and breathe project plans so it's probably no surprise that I used to have a career plan in my 20s. That was until I actually hit my goal. What then? I found myself unsure of where to go from there because I was searching for a specific role title to put 'in the plan', yet I knew it was important to keep planning to help stay driven and focused. Bernadette, Karen and Zoe, all suggested that when career planning, stay away from choosing specific role titles and focus on what values, skills and capabilities sets you'd like to acquire, what it is that you want to achieve from the role and what you want to do, rather than exactly what it is. With that in mind, start to think about what makes you happy and what you're good at. Do what you believe in. Do what you love. If you focus on your strengths, then you are more likely to shine. Although it's good to have a career plan, ensure you're continuing to scan, internally (self) and externally (market), not for the purpose of jumping ship but to validate you're still on the right track – plans change, and so do you. If you hit a roadblock within your plan, remember that failure isn't fatal. In fact, it can quite often be seen as an opportunity, at the very least for learning how to do things differently next time. If what you tried didn't work, jump back in and start again. The failures will have taught you a lot and have helped define what your 'non-negotiables' are when looking for that next role. Don't lose confidence with a failure. Communicate your value proposition with the value you are bringing to the next opportunity. When that time comes, ensure you are interviewing the organisations as much as they are interviewing you.
Don't forget to acknowledge your current success (it's not all about the next big move)
While executing this career plan, it's important to self-reflect and remind yourself that 'this' is what you wanted. My husband reminds me of this often, as many years ago I wrote on my career plan that I wanted to be a project coordinator, then project manager and now a program manager. It seemed so far away at the time but before you know, through a combination of steps, you've reached your goal and onto the next challenge. So, remind yourself that 'this' is what you wanted, don't forget to acknowledge the success rather than continuously trying to get to the next big move.
Choose a mentor that will challenge you to grow
The other person to assist with career planning is a mentor. Quoting Zoe "don't just choose a 'carebear' mentor", choose someone who will help you critically think and improve. Although it's important to have inspiring people around you who make you feel good, choose someone who tells the truth, always pushing you to the next level. Seek diversity in guidance. This person might also be able to help you define what your non-negotiables are when looking for the next role.
Bring everyone along on the journey to diversity
Lastly, and maybe an apt way to finish the Women In Digital International event as we near International Woman's Day, it was interesting to hear where the Q&A honed in on. There was a strong focus from the audience's question on the importance of equality. Specifically, how can we find ways to learn from our male colleagues and leaders and involve them in diversity and equality conversations. We need their help. We can't and shouldn't do this alone as we have a lot to learn from each other. I felt that was an insightful way to end a jam-packed evening as Women In Digital International actually have a strong focus to include both male and females on their Board, within their speaker selections and in their event attendance. Let's keep the diversity of thought alive by inviting your Man-bassador along to the next event!
Words by: Julia Morton
For more information on upcoming community events, follow our Women in Digital Facebook page.