Women in Digital Corporate Spotlight: GlobalX with Lara Paholski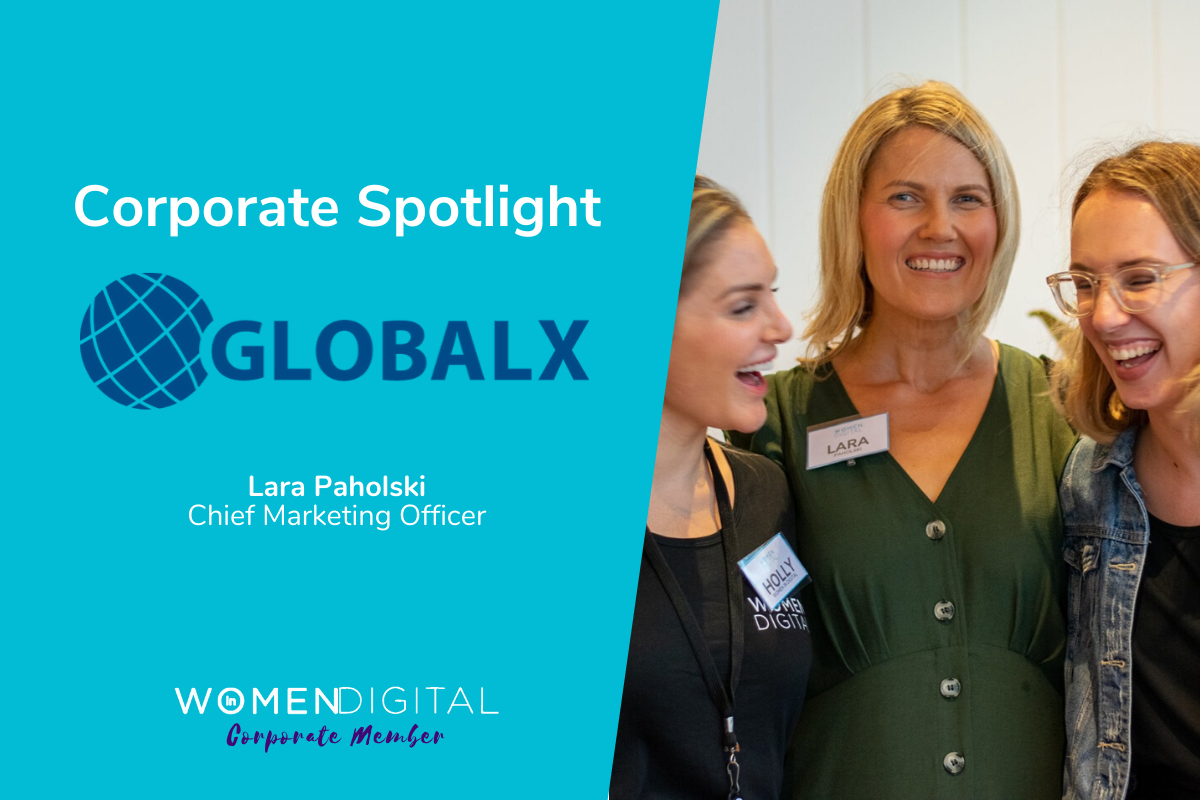 GlobalX is undoubtedly a leader in the gender diversity space; their software team is 50% female and their entire workforce is 49.46% female.  When it comes to gender diversity, they aren't working towards it, they have achieved it! And now, they are setting their sights on greater diversity and inclusion – including racial and cultural diversity. We are so happy to have GlobalX onboard as a Corporate Member and we hope you enjoy this interview with their CMO, Lara Paholski as much as we did. 
How would you describe GlobalX in just one sentence?
An innovative and collaborative organisation with a strong focus on team culture, diversity and having some fun along the way.
How long have you been at GlobalX?
Coming up to 2.5 years.
What is one thing not many people know about GlobalX?
Our staff organise and serve hot meals during work time to local members of the Brisbane community who are homeless or disadvantaged. We do this monthly for local charity Community Friends – a group that holds weekly grocery giveaways at West End.
We have partnered with Community Friends quietly for several years doing both the food giveaway and an annual Christmas Food and Toy Drive. We've never promoted our presence at the food giveaway publicly, as we prefer to spend our time genuinely getting to know the people we serve rather than using it as a photo opportunity.
How did you enter a career in marketing?
I was fortunate enough to get my first "real job" straight out of university at a multi-national advertising and marketing agency.
Grateful for the opportunity, I sank my teeth into learning and doing as much as I could. I got as many life lessons during my stint there as I did work lessons.
I loved the fast pace and diversity of marketing then…and I've never looked back.
GlobalX is incredibly supportive of women in its workplace and creates opportunities and pathways for them.
So the opportunity to further support both our female employees and the broader ecosystem of women across the industry through Women in Digital was a terrific fit for our company values.
Obviously, diversity in digital is important to you but what is your definition of diversity and how or why do you think diversity is important?
Diversity to me means all types of employees coming together to express their unique point of view and working productively together; regardless of age, religion, gender and other factors. It means inclusivity for all.
Diversity is crucial in workplaces as we know it drives higher employee engagement, innovation, collaboration, creativity, reduced employee turnover and improved decision making.
Diversity helps build great culture and you just can't put a price on that!
In what ways do you think diversity is important to someone in the role of Chief Marketing Officer?
In my role as Chief Marketing Officer at GlobalX, I'm responsible for overseeing all our marketing and branding activity, with the wonderful support of my talented and dedicated team.
I've genuinely found that our team's overall creativity and innovation towards our work is enriched because of the many contributions from our diverse range of employees from across the organisation.
The multiple perspectives that we seek to find internally via working groups and cross-department project groups inspire our marketing team to try new things and ways of approaching specific problems.
And our own marketing team is also diverse in its own right and I'm proud to say we operate as a highly engaged and productive team, where everyone's contribution is valued and heard.
How would you describe your current thinking about diversity, and how has your thinking changed over time?
I think diversity in workplaces used be an ideal that was typically thrown around as a "nice to have" or "strategic business imperative" – but it is now a mentality and a reality.
Companies who have embraced diversity have witnessed the highest rates of growth and success and research tells us that it's a critical factor to overall company success.
If I think back to my first job out of university, there's been a gradual, but real shift in the focus and importance placed upon it in workplaces.
I think employees truly now realise the benefits of diversity for not only their workforce, but their customers. It's a cyclical effect of employees working hard to make the customer happy!
What does it mean to GlobalX to have a commitment to diversity?
For GlobalX diversity means inclusion and creating supportive pathways for a career in digital.
How is GlobalX demonstrating that commitment?
Nearly 50 per cent of GlobalX's software development team is now made up of females and 49.46 per cent of its entire workforce are females. This is more than double the national average of less than one quarter (23 per cent) in the Australian Information and Communication Technology industry.
We also run initiatives aimed at arming female staff with the tools they need to feel empowered, such as an internal leadership program run throughout the year to help women prepare for leadership and executive roles within the company.
And whilst we can always improve, we're actively championing women to make their mark in digital.
What do you think is the biggest struggle for businesses when it comes to diversity in digital?
On the whole, I think businesses are supportive of diversity in digital.
The biggest struggle they are actually facing is individuals believing in themselves. As an example, I think many women are often challenged to believe in themselves and that they deserve an equal seat at the table. And it's probably the case for many individuals, not just women.
But workplaces these days are helping to continue diversifying their workplaces and are putting their money where their mouth is.
What do you think GlobalX can improve on when it comes to diversity and inclusion?
I truly believe that GlobalX is an advocate for diversity and inclusion, and this is evident even in our female employee numbers that are well above the national average. We would like to move towards increasing our number of internal programs and initiatives that not only focus on gender diversity, but also racial and cultural diversity. This could include awareness activities (e.g. Potluck lunch with a dish from an employee's country of origin, office decorating, days employees can dress up in outfits from their country of origin) to help foster better understanding of the racial and cultural diversity that comprises Team GlobalX.
To businesses or leaders out there that know they want to improve gender diversity within their team but don't know where to start…. What advice do you have for them?
Reach out to your network and connections! Speak to individuals who are working the space, employers who are walking the talk and other organisations such as Women In Digital who are supporting and putting measures in place to proactively support gender diversity.
So many of us have had positive experiences throughout our careers like myself who are happy to share our insights to help you pave a positive way forward in your own workplace and teams.
There's more people and companies out there ready to help you than you might think – just reach out!
Thank you so much to Lara Paholski for not only sharing her time with us, but for being such a fierce supporter of Women in Digital and the team here. Lara truly goes above and beyond to support us and we couldn't be more grateful. Also, a big thank you to GlobalX for coming on board as a corporate sponsor and for being a leader in gender diversity.  
If you are interested in learning more about GlobalX and their people, click here. You can also find them on Facebook and LinkedIn.
You can learn more about our Corporate Membership here.