Silence your imposter syndrome with these 3 steps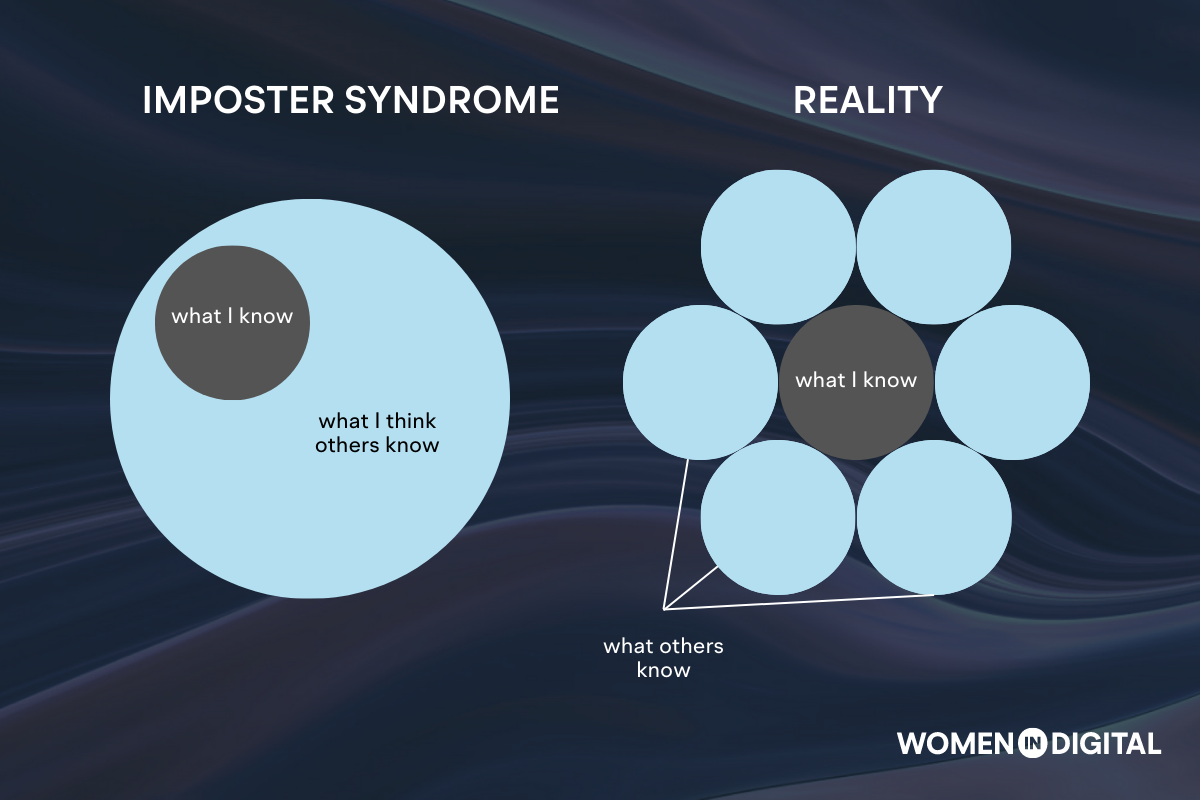 Most of us have been there at some point, haven't we? Sitting at the intersection of self-doubt and uncertainty, struggling with the ultimate confidence conundrum: imposter syndrome. Keep reading as we deconstruct your views on imposter syndrome and share the three key, very doable steps that will help you on your way to challenging imposter syndrome at all stages of your career, starting today.
We recently asked the search listening tool 'Answer The Public' what some of the top search queries were for the term 'imposter syndrome'. The highest results were for queries such as:
What is imposter syndrome?
What is imposter syndrome not?
What does imposter syndrome feel like?
Is imposter syndrome real?
Is imposter syndrome more common in females?
Where does imposter syndrome come from?
We hope to answer all these questions and on top of that, provide you with real, tangible tips to one of the most important questions: how do you combat imposter syndrome?
So, let's answer the question: what is imposter syndrome
not

?

It is not:
A mental illness
A sign of weakness, incompetence or inadequacy
An indication of your work ethic
Limited to a specific gender, profession or career level
A decider of your confidence level or assuredness
What actually
is

imposter syndrome?

Imposter syndrome is that uncomfortable feeling you experience when you think you might be incompetent, unqualified or do not legitimately deserve an achievement. Some people would describe imposter syndrome as feeling anxious or feeling like 'a fraud' or 'a phony' and doubting their abilities. Really it is just a fancy way of saying 'self-doubt'. And to answer another very real and strangely common question above, yes it is real and for many, it can be an overwhelming and debilitating feeling.
So what are three things we know to be true?
Everyone gets it or has experienced imposter syndrome at one stage or another in their career or personal life
We know that it disproportionately affects women in their careers*
It is internalised and self-talk based, meaning that it is within our circle of control (the power to change is within you)
*A recent 2023 poll conducted by OnePoll commissioned by Galaxy Chocolates for their video series launch, "How to Thrive" in partnership with the Young Women's Trust of 4,000 adults found that over two-thirds of women (62%) had experienced imposter syndrome but 54% of men surveyed said they had never felt it.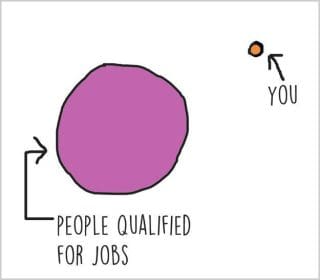 What can you do about it?
Challenging imposter syndrome is all about not letting your inner saboteur hold you back. For many people that struggle with these feelings, this is how it manifests. The conflict between what you know and what you think other people know about you is often a negative (and false) projection when in actual fact, you know your experience and your skills and the people around you probably know that too.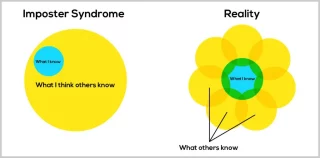 So how do we change this narrative? This is where the hard work begins. It's up to you to proactively work at changing the narrative you tell yourself and unleash the potential we already know you have.
Here are the three tangible steps you can take:
Get data-driven
Change your relationship with failure
Get a second opinion
Action #1 | Get data-driven
We know that negative self-talk is an emotional response. But it's hard to argue with cold hard data wouldn't you agree?
Don't make assumptions or guesses. Ask yourself, "What is the evidence telling me?" This removes emotion entirely, therefore quietening your emotional response and pulling your focus back to what you know to be true. What is the data actually saying?
Now, how do you apply that to your career? It starts with jotting down your wins. For marketers, maybe that's an incredible campaign result. For leaders, that might be the number of positive interactions and outcomes. For a developer, that may be code reviews. Most data can be made quantitative as long as you start recording and building that database to reflect on.
Action #2 | Change your relationship with failure
Every time we deem something a 'failure', we are giving our brain the evidence (and permission) to solidify that negative self-talk and self-doubt. By changing your relationship with failure, you're changing your relationship with yourself including your inner critic. This is the best self-care you can give to yourself and can carry throughout your career.
So how do you apply to your day-to-day?
Replace the word 'failure' with 'experimenting' – if you start seeing everything you do as experimenting, failure doesn't exist!
Surround yourself with content where experimenting is celebrated. A great example of this is listening to podcasts about US startups where they have developed a very healthy mentality around experimentation and 'failures' as learning opportunities
Celebrate experimenting – as an extension of the above point, work towards enjoying the fact that things don't work out all the time. Each time you do this, you are changing your relationship with yourself and replacing the idea of failure with the idea of a growth opportunity
Action #3 | Get a second opinion
If you are engaging in negative self-talk and really doubting yourself, one of the quickest ways to get around this is by gathering external sources of data. That could look like this:
Asking your team/colleagues/manager to get their feedback /insights into your strengths
Completing a Strengths Finder test online
Sending out a survey to the team
This will help you 1) quiet the mind and 2) pull it back to a data-driven approach: what is the evidence telling me?
3 actions you can implement right now:
Ask three people "What would you say is my special sauce or core skills."
Read or listen to Little Bets: How Breakthrough Ideas Emerge from Small Discoveries by Peter Sims to grow your relationship with failure
Check out Google's #IAmRemarkable program to learn how to combat imposter syndrome using data insights
That's a wrap! Imposter syndrome may try to make a cameo appearance from time to time, but we know that with these steps, you have the power to recognise it for what it is (an illusion) and create opportunities to celebrate your achievements and expertise. Now… go forth and conquer your career story!
---
Ready to unlock exclusive insights, tips and opportunities to level up your career? Join the Women in Digital Membership and be part of our thriving community of career-driven individuals! Click here to learn more.