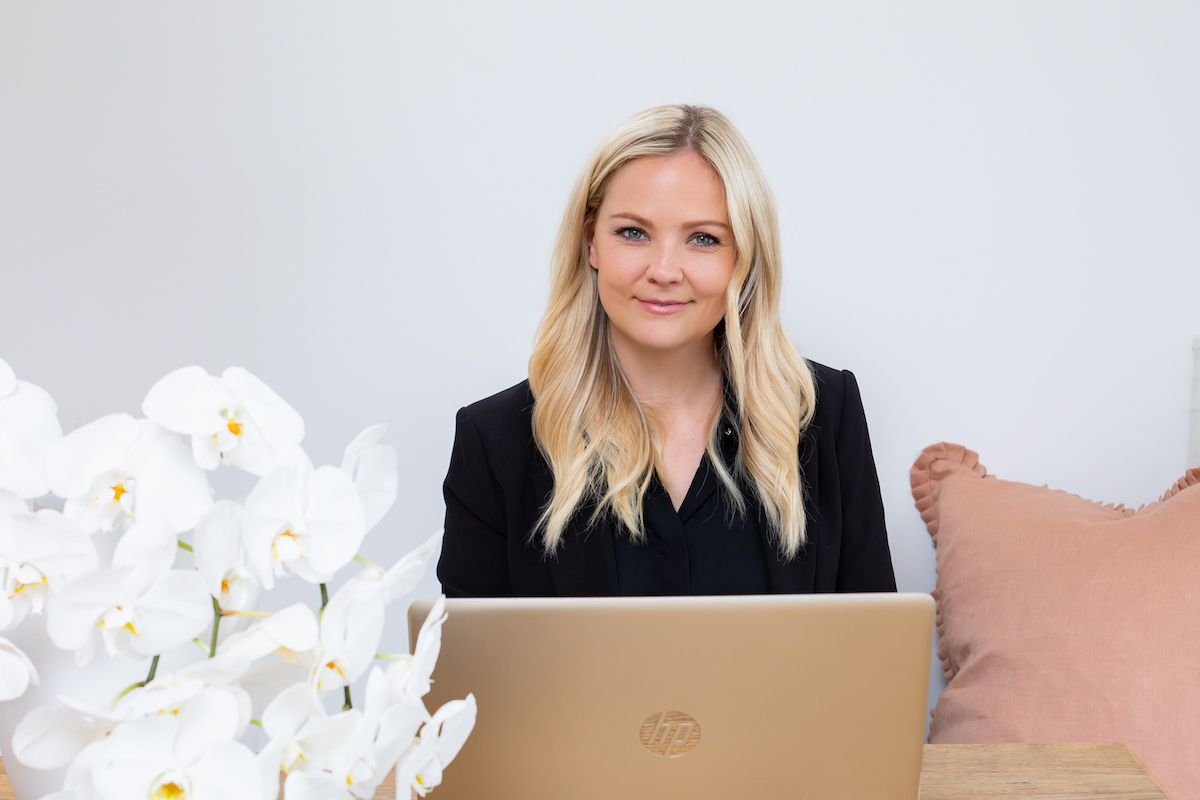 ---
Introducing the 2020 Women in Digital Awards Digital Marketer of the Year, sponsored by Canva, Lauren Swidenbank!
Lauren is a digital marketing expert and paid ads specialist with a passion for analytics. As Founder and Director of Cali Social, she has a solid track record of helping small to medium-sized businesses level up their digital marketing. Lauren's winning entry was based on the exceptional work she did for a client's business in 2019-2020. Using a mix of Google Ads, Facebook and Instagram ads, Lauren planned, created, implemented and optimised the entire campaign achieving a 307.51% increase in revenue for the client in 12 months, shifting a 6-figure business to a 7-figure business. Um, talk about impressive!
We were excited to talk to Lauren about her winning-entry, career journey and diversity in digital.
Watch the live announcement of the Women in Digital Awards Digital Marketer of the Year here.
Congratulations Lauren! We already know you are as the digital marketing guru, but tell us, who is Lauren the person?
Thank you so much! I am so honoured to achieve this award! Starting with the hard questions! Okay, so I moved to Australia 9 years ago when I was a young 21 year old backpacker. I had originally meant to be here for just 6 months and had plans of travelling the world – but you know the story, I met a cute Aussie guy, rescued an even cuter dog and I never left. I love anything to do with the water so you'll find me by the beach whenever I get the chance. I'm an adventurer at heart and love finding new places or new things to do. When we are able to travel the next two places on my visit list are Morocco and Tuscany!
What is something that not many people know about you?
I am known for making the best cob loaf. It's seriously so good and I'm so proud of it haha! Invite me round and I will turn up, cob loaf in hand.
How did you get started in digital marketing and paid ads in particular?
Like a lot of people, I actually 'fell' into digital marketing. It certainly wasn't part of my plan! I graduated from university in the UK with an Economics degree and had big plans of moving to London and working on the stock market. Let's just say that the idea of working in the financial industry was much better than the reality! I have been interested in social media ever since I can remember, and I started to research it more and more as it developed. My knowledge was all self taught and my experience in working with clients came from working in agencies. I am a very analytical individual who loves numbers and stats, I found that I could easily apply these skills to running paid ads, so paid ads was a natural direction for me to take!
Who is your professional inspiration?
Sara Blakely – founder of Spanx! I never get tired of hearing her story and my favourite quote from her is ' I did not have the most experience in the industry or the most money, but I cared the most'
You had worked in a number of digital agencies before Cali Social. What made you decide to take the leap?
I knew that I could offer a superior service where the client wasn't just a number and that I could contribute to the wider strategy and take a more wholesome approach rather than just a ten minute phone call every couple of weeks. I pride myself on creating strong relationships and friendships with my clients, I know that they trust me fully and I never had the chance to get to this level of rapport when working in agencies as it was more of a 'churn and burn' way of working. I had clients from day one of taking the leap which was an amazing feeling.
What's your most recommended Business/Marketing resource?
I have two recommendations for brilliant marketing resources. If you are new to the world of running Facebook ads, or lack the skills/knowledge to create campaigns, you can't go further than Facebook Blueprint. It's totally free and gives a basic overview of everything you will need to start your campaigns.
If you are in the marketing industry and looking for something a little more high level, my go-to would be Hubspot as there is such a variety and wealth of information
As you mentioned in your nomination, you originally struggled to relate to your winning campaign's target market. Tell us a bit about that and how did you get into the mindset of this target market?
Yes, the biggest challenge throughout the campaign was definitely my own self-doubt – I had absolutely nothing in common with the target audience, I didn't know anyone personally that fitted into the audience, I wouldn't ever experience the products or buy any of the products so I had this niggling feeling that maybe another PPC specialist would be better suited for this client, but I love a challenge and thought that if it's not me, it will be someone else so why not just give it a go?! I was so determined to make this campaign work that I attended several 'Car Meets' so that I could see the types of people that went along, what they were wearing, who they brought with them, what types of cars they drove and ultimately realised the insane amount of pride these guys have for their cars and that they just want show off. This formed the basis of my entire digital strategy – and it paid off!
How have you dealt with the challenges Covid-19 has thrown your way as a marketer and small business owner?
Covid-19 has been a really exhausting, strange time for my role and for my business! On the one hand I had a few clients pull the plug on their ads/digital marketing so I lost clients, but on the other hand I have been inundated with new enquiries as the world moved online. Covid-19 really highlighted the importance of the digital industry and the role it has to play in the future. Covid has taught me three things as a business owner:
Some things are absolutely out of your control
People experience things differently.
Look for the opportunity even when you don't think there is one. For me, Covid was the perfect time for me to read. Something I haven't done in a long time because it always fell to the bottom of the list!
If you could go back 5 years and give 'younger you' any advice, what would it be?
Don't be in such a hurry to have everything all figured out. I think we put too much pressure on ourselves to have achieved big things before a certain age. I honestly believe that everything happens at the exact time that we are ready for it, so as long as you put the work in, don't stress about the timing!
Oh and manifestation is real, so start earlier!
What tips do you have for students and graduates seeking a career in digital marketing?
Learn to understand and interpret data. A huge part of digital marketing is now focused on the data and how to use this data to make decisions. Having a qualification or further study in an analytical area will set you apart from other applicants.
Obviously, diversity in digital is important to you but what is your definition of diversity and why it is so important?
Diversity is being able to recognise and champion the differences in people, including being able to utilise their differing skills and approaches. It's important as it bridges the skills gap to give a more rounded approach to digital.
What do you think can be done to improve diversity in the digital industry?
I think we need to start in schools. We need to introduce digital technologies and outline a clear career path into digital! The stigma around it being a male, nerdy subject needs to go! We also need to highlight inspirational businesses that champion women so that young people have people to look up to.
What do you believe is the importance of industry awards such as the Women in Digital Awards?
The importance of these awards is undeniable! As women, we often downplay our success or don't give ourselves the credit we deserve. The women in digital awards gives women a platform to celebrate their wins and all that they contribute to the industry.
What technology development is most exciting you at the moment?
I really love watching the technological developments that are happening in the health industry. The ability to increasingly predict and treat health issues in people even before they experience any symptoms is fascinating. The more data that technology can collate in regards to a particular individual, the better the outcome for each patient. This has to be a win for everybody!
What is next for you and for Cali Social?
We're growing and niching into the luxury space! We're going to be offering a one of a kind service that no other 'agency' is offering and I cannot wait to share this with the world! I'll also be adding to the team over the next few months to include more ad specialists to keep up with client demand
Congratulations Lauren on these incredible results and thank you for taking the time to chat with us!
Want to get involved with the Women in Digital Awards? Be sure to subscribe here so you never miss an update! 
To read more Q&A blogs from our line-up of Women in Digital Award Winners, head over to our blog and keep an eye out for more success stories on our Facebook and Instagram. You can also see our list of other winners here.
---