Beyond bragging rights: Why women need to apply for awards programs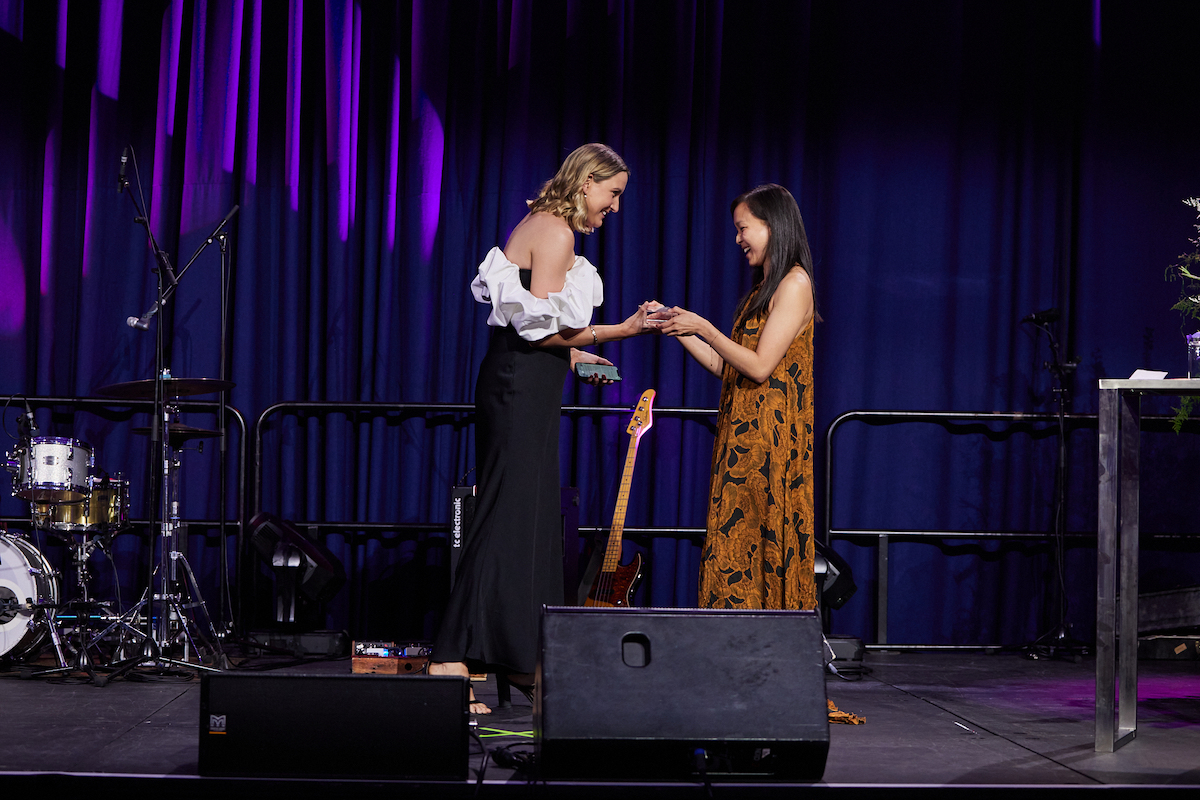 We know that self-promotion is an essential element of career progression, Harvard told us so! And yet, we also know that the confidence gap and imposter syndrome disproportionately affects women, who are most likely to downplay their achievements in the workplace. But how do we bring about the change we seek? It starts with exercising your self-promotion muscle and championing the people around us to do the same.
Despite their remarkable achievements and valuable contributions, we see women play down their successes time and time again. Whether it's fear of failure, imposter syndrome, a concern of appearing 'boastful' or taking credit for team efforts, we want to highlight why taking note of your achievements is not merely a chance to receive well-deserved recognition, it's about unlocking person growth, business growth and much more.
Self-promotion is time well spent and we're here to remind you why:
Self-reflection and recognition
You'd be amazed by the number of times we hear, "I didn't realise how well I was doing! I feel like a winner just for entering." The nomination process encourages you to pause and think about your achievements and then articulate them. In fact, in 2022 over 88% of nominees said that they had more career confidence after completing a Women in Digital Awards nomination form. We guarantee the results are similar across other awards programs.
We know that in some cases, women may avoid applying for awards programs due to the perception that they might come across as boastful or self-centred. To that, we counter that sharing your achievements is not synonymous with arrogance. It's about showcasing your hard work, inspiring others, and breaking barriers. Your achievements are not just about you; they pave the way for future generations.
We also acknowledge that many projects or campaigns and their delivery require a team. To the leaders of those projects that fear nominating for an individual award takes away from their team's efforts, we say: just like when Nicole Kidman wins an Oscar, she is winning it for herself and the entire team that worked to bring the film to life! Be the Nicole Kidman! Encourage other women and your team by leading the way and sharing your successes.
But recognition aside, merely applying for awards or seeking to be nominated also brings a multitude of career benefits.
Career visibility
When we say 'it's not all about winning', we really mean it. If you know the value of good marketing, you'll know that it's not just reserved for products and services. That principle also applies to careers!
While there is no doubt that winning is a personal and professional feat, sometimes not winning is just as valuable as taking home the trophy. Simply the process of applying is an incredibly valuable exercise and an opportunity for personal branding. Self-promotion is a skill you can take throughout your career as you navigate salary negotiations, job interviews, building your career presence and climbing the ladder.
Get your work out there, and let the success speak volumes about you.
Business exposure
This is an easy win! By entering awards programs, you'll often have some of the industry's finest judges and leaders review your entry and learn more about the work you do. If you become a finalist or winner, you'll have even more of the industry's best and brightest learning about the incredible work you do! This is business gold (hello free PR!) for Founders in particular.
Elevate your organisation
Have you ever thought of just applying for an awards program to be your company's chance for a viral moment? You do now!
Taking part in an awards process, particularly if your organisation is shortlisted or wins presents a fantastic opportunity beyond exposure to build some excellent social proof for the business. Depending on the awards program, it can be an opportunity to align your business with an important cause or a reputable industry body, or both. It also makes for some great content for social media, your company website or PR.
Connections
The chance to make some incredible connections by just being involved in an awards program is extremely underestimated. Whether you're interested in connecting with award partners, award sponsors, fellow nominees or judges who are often made up of knowledgeable and well-connected industry experts, you are likely to meet some great people along the way. You can also use your involvement as your golden ticket to spark a new conversation or connection with someone you admire in person or even on LinkedIn. You never know where your next opportunity might come from.
Just consider this quote from 2023 Women in Digital Awards Digital Transformation & Data Leader of the Year, Tamara Mirkovic:
"Following the awards I've had many people reach out to me on LinkedIn and other professional networking organisations for mentoring support, keynote speaking events and I was even interviewed on a podcast! These opportunities would have been out of reach if it had not been for the recognition associated with these awards and connections that I made through WiD."
Inspiring others
If you're familiar with the Women in Digital Awards, you're probably familiar with the phrase 'you can't be what you can't see'.
By sharing your achievements and participating in awards programs, you become a role model for others in your field and especially young people. When they see you succeeding and being recognised, it inspires them to believe in their abilities and strive for their goals. Your journey can ignite a fire within others, encouraging them to pursue their dreams and break through barriers.
New opportunities
Being involved in awards programs can open doors to some new and exciting opportunities. As a nominee, finalist, or winner, you may be invited to speak at industry events or conferences, join a judging panel, or even share your thoughts on a podcast. These platforms allow you to showcase your expertise, share your insights, and expand your reach and professional network. Such opportunities could also lead to further career advancements and collaborations.
When asked how the Women in Digital Awards impacted her career, Aishwarya Kansakar, 2021 Rising Star of the Year, responded:
"The Women in Digital Awards has driven awareness about my career and endeavours! I have received a number of speaking invitations to multiple national conferences and have spoken in front of hundreds of industry leaders. I've had the opportunity to increase my reach which has strengthened my position in the Australian technology community." 
Practice self-promotion
We mentioned it already but we really can't stress enough the impact of practising self-promotion on your career and confidence.
Applying for an awards program will not only encourage you to take stock of your achievements and spread the word. But hopefully by virtue, it will empower you and the women around you to go for awards and other opportunities.
It's also an opportunity to practice skills such as crafting cover letters or grant writing which can be hugely beneficial.
Challenge the status quo
Finally, for the programs like the Women in Digital Awards designed to help shine a light on the career pathways and possibilities that digital and technology provide to women and underrepresented groups, we believe that unless we have more visible role models in digital and technology, we won't change the status quo. By entering the awards, you are making a contribution to the future of digital. And let us say… the future is looking bright!
If you too are passionate about contributing to a brighter future of possibilities for women, we encourage you to 'get your search on' and start nominating yourself, your organisation and deserving women in your network today!
Learn more about the Women in Digital Awards and how to nominate here.