Women in Digital Awards Winner Series: Q&A with Sorcha Abel, Software Developer at Genie Solutions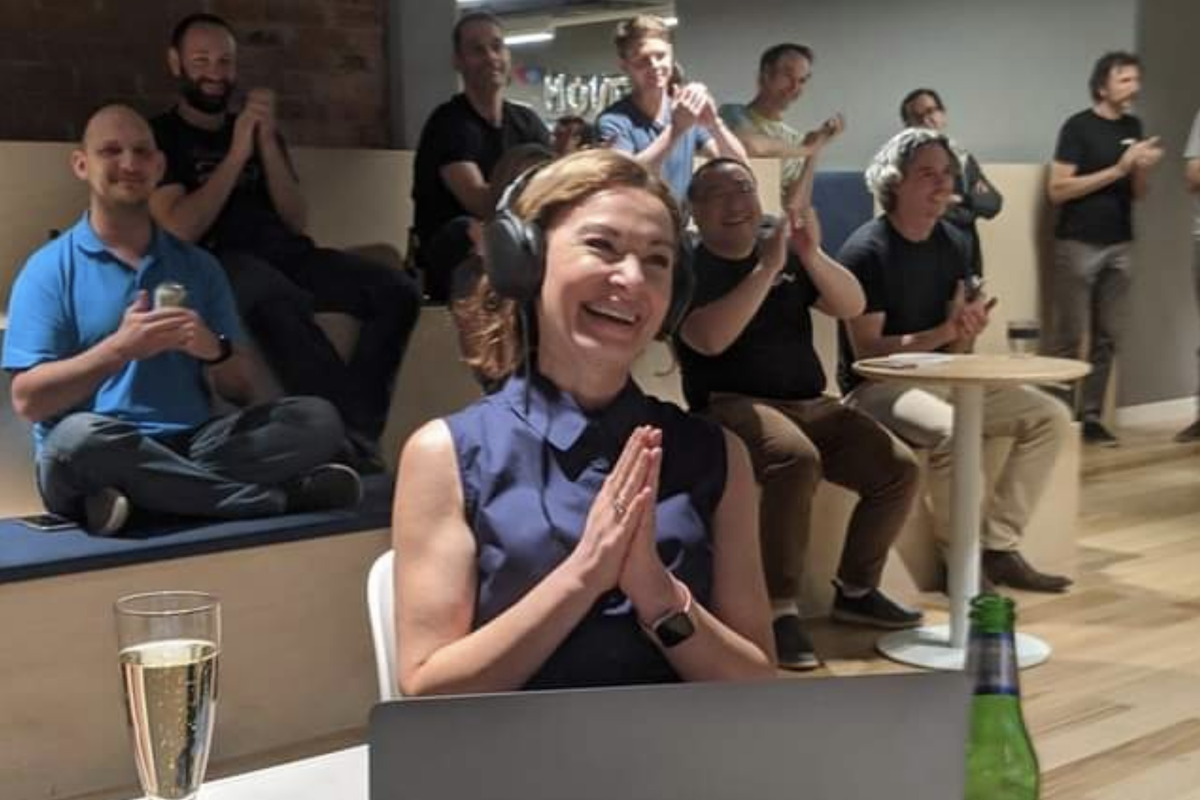 Introducing the 2020 Women in Digital Awards Technical Leader of the Year, sponsored by COSOL, Sorcha Abel!
Sorcha is a Software Developer at Genie Solutions with over 15 years' experience. As part of her winning entry, Sorcha was involved in all stages of a project designed to automate the process of importing private health fund fees through a sophisticated script. But where she really shines is her industry contributions. Sorcha is passionate about mentoring women in technology. She regularly organises, mentors and presents at events including Rails Girls Brisbane, Elixir Girls, Brisbane Installfest, Coder Academy, Muses and Coder Dojo, introducing women to tech and showing young people what a career in tech could look like. Sorcha is a true advocate for women in digital.
We were thrilled to talk to her about her career, contributions to women in tech and of course, diversity in digital.
Watch the live announcement of the Women in Digital Awards Technical Leader of the Year here.
Congratulations Sorcha! These are incredible professional accolades, but tell us, who is Sorcha the person?
Thanks so much, honestly I'm still floating. Who is Sorcha… gosh… I guess I'm a few things. First and foremost I'm a mum of three fantastic kids. Grace, Harry and James. I'm Irish, my Husband is Australian and we moved to Australia almost 9 years ago. But a lot of people know that about me already 🙂
If I were to pick one word that describes me but equally a trait that I look for in others, regardless of position, it's respect. I think this is the key to a successful person and a productive team. They may sound like empty words but I'm really passionate about this.
I truly believe if people feel respected, they feel valued. This in turn leads to a greater contribution in terms of collaboration/code etc. However, if people don't feel respected they tend to withdraw, contributions to group discussions stop, morale drops, team collaboration stagnates and it usually ends up in high turnover. This is never a win from any perspective.
I don't believe that respect is something you earn, I feel everyone should demonstrate and receive it from the get-go. Respect in the workplace really brings out the best in people.
What is something that not many people know about you?
I once played the piano well and now I play it badly. It's on that long list I keep and I genuinely hope to start playing it again in 2021, this is the first of my 2021 New Year's resolutions
What are you currently watching/reading/listening to?
Actually, I'm currently reading the Harry Potter books, my daughter is crazy about them so there came a point when I needed to educate myself on the values of Dumbledore vs Voldemort. Actually, the books are great!
On the tech side of things I've just started to read Clean Code and I'm also studying for the AWS Developer Associate exam. That's all keeping me pretty busy!
It is commonly recognised that there are fewer female leaders in digital and technology -specifically in technical roles like you. How did you end up working in this industry?
I love problem solving and I love talking to people. Software development requires both. I'd probably say communication skills are the most important. If you can't understand a problem then it's impossible to develop a solution for it.
I started in a support role which ticked the above 'problem solving' box but I soon realised my passion was for software development.
What's your most recommended business or technology-based resource?
I use a range of resources, I regularly sign up for a course on Udemy or use Pluralsight. I switch between blog posts and Medium articles and physical books. Currently, I'm using the DigitalCloud Training for the AWS exam.
As a kid, were you always drawn to computers. What made you enter a career in software development?
I have always been a keen student and studying technology gave me the opportunity to hone in on my passion for solving problems. Once I got the opportunity to write code for a career, I knew I had made the right choice.
Genie Solutions is obviously an incredible organisation to work for (and were actually the winners of the Diversity Employer of the Year award at the 2019 Women in Digital Awards). But tell us, what is your favourite thing about working at Genie?
It really is an incredible place to work. It's actually difficult to pick just one thing! I guess the culture is a huge part of what I love. There is a feeling that we are all in it together, everyone helps everyone without question. It's such a supportive place. Coupled with that is a genuine encouragement for all staff to grow and be what they want to be. Genie gives you the tools, resources, support and mentoring you need. For me that is massive.
What I love most about my day to day role is coding with the most supportive, amazing developers who truly make work a joy. That might sound a little cliched but it's true. As a developer it's so important to learn and grow, technology is always changing so to work with people who mentor and guide me is of paramount importance.
The executive team leads by example which is refreshing. My manager constantly asks what I need and how he can help me get there. They are not empty words. The CTO guides and empowers everyone and is one of the most approachable people I know. And we have a CEO who knows everyone's name, chats to all and has a positivity that radiates.The company is like one big team of people who help and support each other to get things done. I feel blessed to be part of that.
What has been the biggest career challenge you have faced so far and how did you overcome it?
The biggest challenge I had that impacted my career was moving to Australia, I had just had my second child, I had left the banking sector in Ireland and had lots of experience but with legacy code. My biggest challenge was while dealing with the stress that comes with relocating there was an added stress of learning a very different tech stack. That coupled with not having any IT connections in Australia made it quite the challenge.
But it all worked out, and I guess that's important to remember, most challenges do work out and looking back really helped me grow personally and professionally.
What tips do you have for students, graduates and early-in-career professionals set on a career in software development?
Tech wise I would suggest in the career early days not to specialise too much. Stay abreast of the current technologies and try not to pigeon hole yourself into any one stack. Ask lots of questions and listen.
Focus early in your career on good structure, good logic and always keep in mind the outcome your code is trying to achieve.
Be patient with yourself and your progress. When you come across something unfamiliar, remind yourself you simply don't know it "yet". Nothing is magic, all answers are out there. And finally not to forget that no one was born knowing how to code, it's a skill we learn and perfect over time.
On the soft skills side, believe in yourself and give everything a try. When something doesn't work learn to move on fast. Listen to everyone's opinions, especially the ones you don't agree with. Keep an open mind and view everything as an opportunity to learn something new.
What do you wish more people knew about working as a software developer?
I wish people knew how rewarding it is. My average day incorporates some great discussions, some great code, great support and fun. I think that's the key to any happy role. Maybe people don't think of IT as a fun role but great people are scattered throughout every profession and IT is no different.
I worry there is still a misconception about software development as a profession. Sadly I have heard the following sentiment more than once: "As a women you have to prove yourself more". Maybe that was once true, but it's not an accurate statement these days. I really want people to know that. Tech is a welcoming industry and you will be assessed on your ability/dedication. Gender really doesn't play a role.
What's next for you? You have already achieved so much but do you have any professional aspirations you still hope to achieve?
This is by far the hardest question so far. I have so many things on that list. The more I learn the more I realise there is to learn. The AWS Developer Associate exam is the next concrete thing on my list. Recently, an app that I developed for Xero has gone into BETA testing mode by both users and Xero. I've got my fingers crossed that it could be added to the Xero Marketplace soon… So busy but exciting times ahead.
We are so impressed by your community involvement in encouraging women to follow STEM pathways, are you working on any projects now?
I have lots of plans for 2021, I hope to run the next Rails Girls event ASAP. This year we have AWS Educate onboard and we are all set and ready to go.
We have new guides, new presentations, new mentors and an AWS dev environment..so many exciting things. We are just waiting for these times to get safer before a date is announced. I also intend to mentor and panel talk at other Brisbane events once everything is safe to do so.
What do you think can be done to improve diversity in the digital industry, particularly in more technical positions?
We need people to study tech, that goes without saying but equally we need people to stay in tech. That's the key. Diversity is more than encouraging women into tech. That is of course one piece of the puzzle and a key piece at that, but keeping women in tech is of paramount importance. Diversity, as we know, encompasses more than gender, it includes life experience, travel, children, family and everything that makes us who we are. We want all those experiences around a table when we are trying to solve a problem.
Flexibility is the other piece of the puzzle. As a mum it is so important to me. I'm lucky to work in a company that supports part-time hours and I also have the flexibility to work from home. These 'perks' are huge, a great benefit for all employees but for a mum it can be the difference between staying in the industry and leaving it.
What do you believe is the importance of industry awards such as the Women in Digital Awards?
So important, sometimes life is so busy we don't see our achievements or we completely take them for granted and therefore discount them. For me the WID awards made me stop, think, forced me to reflect and document my achievements. This helped me to change my perspective, from one that is always focused on looking at my future goals to look at my past achievements. It actually helped me to believe in myself more.
What technology development is most exciting to you at the moment?
At the moment for me it's all about cloud computing. I am actively studying AWS certifications, having recently passed the AWS Cloud Practitioner certification and currently studying for the AWS Developer Associate certification. The more I learn the more I am amazed by the capabilities of AWS.
Congratulations Sorcha on this accolade and thank you for your many contributions to women in digital!
Want to get involved with the Women in Digital Awards? Be sure to subscribe here so you never miss an update! 
To read more Q&A blogs from our line-up of Women in Digital Award Winners, head over to our blog and keep an eye out for more success stories on our Facebook and Instagram. You can also see our list of other winners here.